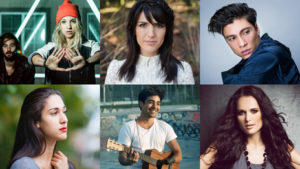 This morning Swiss Television (SRF) revealed the six songs hoping to represent Switzerland at the Eurovision Song Contest 2018 in Lisbon, Portugal.
In Switzerland, 670 songs were originally submitted to the television company. From these only six have been chosen for the final, to be held on February 4, 2018.
The lucky songs and singers are
Zibbz – Stones
Chiara Dubey – Secrets and Lies
Naeman – Kiss Me
Angie Ott – A Thousand Times
Vanessa Iraci – Redlights
Alejandro Reyes – Compass
A 20-member independent jury listened to the submitted songs. The jury consisted of musicians, media personalities, fans and television viewers. Those responsible will be named later.
Switzerland at the Eurovision Song Contest
As so many know, Switzerland gave us the first ever winner in 1956 with Refrain by Lys Assia. It took another 32 years before Celine Dion took the prize with Ne Partez Pas Sans Moi.
Peter, Sue and Marc attempted to win on four occasions. They hold the record for having sung each entry in a different language – French, English, German and Italian. The best they finished was 4th in 1976 and 1981.
Recently Switzerland just doesn't seem to be able to find a winning formula, with their last three entries all failing to make the final. Here's Timebelle one last time with Apollo, from 2017.