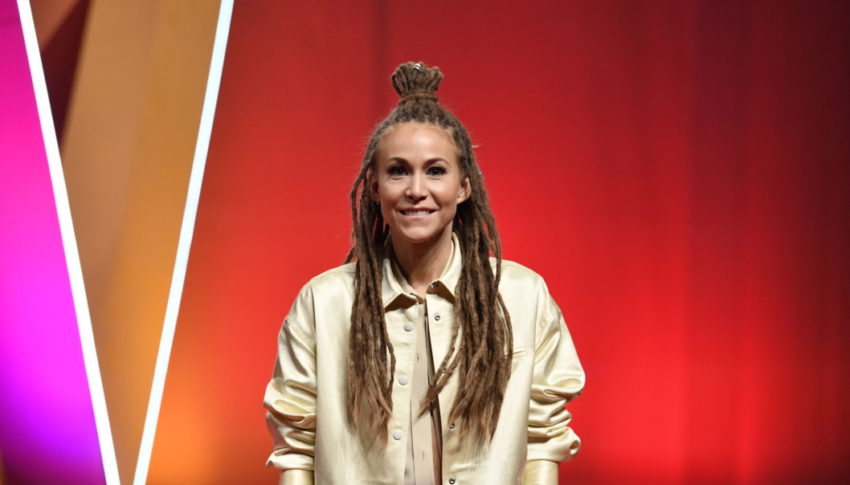 Melodifestivalen Semi Final three took place in the Northern Coastal city of Luleå, where we saw the return of past performers to the competition. Mariette and Mohombi qualified direct to the final in Stockholm on March 7th.
Seven more acts took to the stage tonight, this time in the Coastal city of Luleå. Among the acts we saw Mariette and Mohombi who have both participated in Melodifestivalen multiple times with great results. Other than returning artists we also saw performances from a Swedish dansband, an idol alum and a saxophonist for past participants Samir & Viktor.
Songs
Mariette- Shout It Out
Forever a fan favourite, Mariette returns to the competition after a 2 year hiatus. This song is very much everything you expect from her. She has a distinctive sound and performance style and while the performance is not the most dynamic, Mariette is a constant professional and there is always a sense of security in what she does. This will advance from this semi final with ease.
Albin Johnsén- Livet börjar nu
Albin goes it alone this year after having previously competed with Mattias back in 2016. This time he has slowed down the pace and gives us a mid tempo ballad.  He is joined on stage with four backing dancers.  They seem to be in a music room on stage that is in the middle of being redecorated as there are benches, fabric and ladders lying randomly all over the place, along with an ancient roman bust. It does look like a mess on stage, whether they were going for that look or not, they achieved it.
Drängarna – Piga och dräng
Perched on an elevated stage, the band are all play instruments including guitar and violin. It has a slight Celtic feel to it and is definitely upbeat, which isn't a real surprise for a dansband. This is one of those performances at Melodifestivalen that could crash or go direct to the final. I wouldn't count this out just yet.
Amanda Aasa – Late
Amanda is on stage with two backing dancers who mimic her movements as she struts around the stage singing this cool contemporary pop song. She has an interesting voice that does give the song more dynamism. If someone else was singing this it may have got lost, but I feel she sells this well enough to progress.
Anis don Demina – Vem är som oss
Samir & Viktor's saxophonist for Shuffla is back in the competition as the main performer. It is very much in the same vibe as his predecessors. It is somewhat novel and there is a lot of jumping and excited vocals. All in all, it is a fun watch and could do well.
Faith Kakembo – Crying Rivers
Dressed in a glittery silver catsuit, Faith sings this beautiful pop-ballad with such sultriness. It has a bit of a late-eighties/ early nineties vibe to its production, but she definitely does sell this well. There are parts of the instrumental that has been taken straight out of the Twin Peaks soundtrack (so for me personally that makes it more interesting). Unsure of how well this will do, could be left in the semi-final, its best chance is the Second Chance round.
Mohombi – Winners
Possibly the biggest name in tonight's show, Mohombi comes back to the fold with a great pop song, almost anthemic in it structure and style. Mohombi does some great movements and dancing during the instrumental breaks in the song. It looks like he has stolen Armenia's staging from Eurovision 2018 and added some LED's to it.  It is a great performance, and this is easily going through to the final in Stockholm.
Results
After the first round of voting, XXXX and XXXX let the competition, followed soon after by XXXX in fifth place. The four acts still in the running to represent Sweden are:
Direct To Final:  Mariette
Direct To Final:  Mohombi
Second Chance: Drängarna
Second Chance: Anis don Demina
Tune in to the next Semi Final on Saturday the 22nd to find out who joins the winners club.