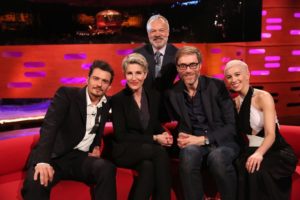 SuRie has performed her Eurovision entry "Storm", on tonight's Graham Norton show, ahead of departing for the Portuguese capital Lisbon. She also give us an idea of what we might expect on the Eurovision stage.
The Graham Norton Show is BBC One's Flagship chat show, greeting stars of stage and screen, while also welcoming controversial US Presidential Candidates and UK Politicians. The show moved from the Corporation's second channel BBC Two in October 2009, to fill the popular Friday Night slot. Since then the show has gone on to achieve great success and win multiple BAFTA awards.
SuRie's entry has garnered mixed reviews, with many citing that the song is inoffensive, yet ultimately non-competitive. But it is a 'Marmite' song and many do love the song, especially from people across the continent. One thing that can not be denied is her love and joy for the contest and it's competitors past and present. She has been deemed as one, if not the best, ambassador the UK has sent to the contest. She showed her true colours in Amsterdam when Madame Monsieur's Émilie Satt was too ill to perform she stepped in to provide vocals for the duo.
Eurovision is about the music and the spectacle, but it was originally about bringing a war-torn Europe together, and showing the continent had strength when the countries worked together. SuRie's actions is just a small example of how this ideal has been fulfilled over the years.
Tonight's performance saw SuRie perform her electro piano ballad, while stood in the centre of a giant neon/LED frame. She wore a black and white asymmetric dress by Stylist and Costume Designer Frank Strachan.
She give a confident and assured performance and the crowd helped build the atmosphere by waving glow sticks and cheering along at the end. She was then invited onto the red sofa where she sat alongside Hollywood star Orlando Bloom and stars of British comedy Tamsin Grieg and Stephen Merchant.
Asked about her Eurovision competitors, she had confirmed she has heard all the entries this year and believes that Australia has a fantastic song which could go all the way.  Something Graham Norton himself agreed with, someone who has been outspoken about Australia's participation in the contest.  Also Graham did mention he enjoys Finland's Saara Aalto as one to look out for.
UK Eurovision artists have been given this spot to promote their song since back in 2011 Blue were the first artists to perform the nation's entry in front of one of the biggest TV audiences of the week. With great exposure like this, with the added bonus of having the episode broadcast on BBC America it lifts the performers profile and Eurovision's.
After tonight's performance, how do you think SuRie will do? Let us know here at Eurovisionary.