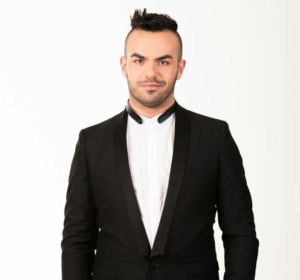 31 year old actor and singer Slavko Kalezić will represent Montenegro at the Eurovision Song Contest next year with the song called Space. That was announced today by RTCG, The Public Service Broadcaster of Montenegro.
The decision was made by an expert panel consisting of Biljana Papović (music editor), Dalibor Nedović (producer and audio engeneer) and Pjetar Dedivanović (scenographer and musician).
According to RTCG's Head of Promotion Department, Sabrija Vulić, the national broadcaster has received 27 songs from 20 different songwriters. This was one of the main reasons why it took the expert panel so long to make the final decision.
Slavko Kalezić is 31 years-old. He was employed as an actor at The Montenegrin National Theatre since 2008. Slavko completed a graduate diploma at Faculty of Dramatic Arts in Cetinje, where he specialized within solo singing and dancing. Slavko participated in the first season of X Factor Adria which was transmitted in 2013-2014 without making a significant result. In 2014 he realeased his debut album "San o vječnosti" (A dream about eternity). Slavko speaks fluently Italian, Spanish and English.
The author of the Montenegrin song in Kyiv, Space, is Momčilo Zeković. Momčilo is a member of the music band Perper and in his career he has written many hits for many different artists from Montenegro.
The Montenegrin entry will be presented to the public at a later time.
Montenegro at the Eurovision Song Contest
It was in 2007 that Montenegro participated as an independent country at the Eurovision Song Contest for the first time. Since 2007 they managed to qualify to the grand final only twice.
Montenegro's best result came in Vienna in 2015, when Knez finished 13th with the song Adio. This year in Stockholm Montenegro was represented by the band Highway, but unfortunately their Eurovision journey ended in the semi-finals.
Below you can watch Slavko Kalezić performing his latest single Freedom at RTCG: