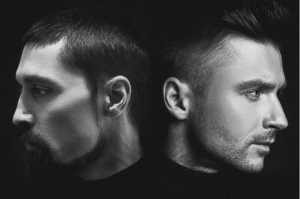 At one of Russia's biggest music events Muz TV Awards former Russia's Eurovision representatives Sergey Lazarev and Dima Bilan performed Prosti Menya (Forgive Me) together. It is a part of their joint collaboration.
Sergey Lazarev represented Russia at the Eurovision Song Contest in 2016 in Stockolm with his entry You Are The Only One and came 3rd in the Grand Final with 491 points, ultimately winning televoting with 361 points.
Dima Bilan represented Russia in the Eurovision Song Contest twice – in 2006 and 2008. He came runner-up in 2006 with his entry Never Let You go with 248 points, losing to the Finnish winner Lordi. 2008, however, was his lucky year and he managed to score Russia its first and so far only win with his entry Believe, scoring 272 points. As a result of Dima's win, Russia hosted the contest in 2009 in Moscow.
Not only did Sergey and Dima do well at Eurovision, they have also been successful within the MuzTv Awards scoring numerous awards such as Best Male Act, Best Act, Best Song. Dima Bilan has won 7 Best Male Act awards, while Sergey Lazarev has won 2.
Shortly before the ceremony this year, Sergey Lazarev published a poster on his Instagram profile where he mentioned that Prosti Menya would be performed for the first time and that it would be available for download afterwards. Fans reacted: they began to leave hundreds of comments under the singer's post, expressing both delight and surprise.
The song is a powerful love ballad about giving up on love after trying for too long. The artists are asking their loved ones for forgiveness because there is no way out and it just can't go on anymore.
In the end, the performance took place: Sergey Lazarev and Dima Bilan performed together on the same stage the song Prosti Menya. The release of the two major artists has become one of the most culminating events of the MuzTv Awards event. Thousands of people were applauding Sergey and Dima nonstop.
You can watch the performance of Prosti Menya below: