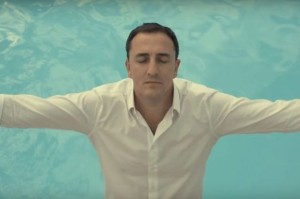 Balkan singer Sergej Ćetković, who represented Montenegro in Copenhagen 2014, has released a new single titled Korov. The single features two other Eurovision alumni, both from the Former Yugoslav Republic of Macedonia.
Sergej Ćetković is one of the biggest names in Balkan Pop music; he's had a successful career for 17 years now, and reached his international peak in 2014, when he became the first Montenegrin act to qualify for the Eurovision Song Contest Grand Final, with the song Moj Svijet. 
His new musical project is the single Korov, in which we find the participation of F.Y.R Macedonia's Eurovision 2006 representative Elena Risteska on backing vocals. It combines the traditional sounds of the Balkans with Pop, very true to the style that has made Ćetković a star in the region.
The track was produced and arranged by Darko Dimitrov, who has worked on several Eurovision songs from F.Y.R Macedonia, including Risteska's 2006 entry Ninanajna, Esma & Lozano's Pred Da Se Razdeni in 2013, TIjana's To The Sky in 2014, and this year's Albanian Eurovision song, I'm Alive, by Elhaida Dani.
The video for the song was directed by Italian photographer Gianluca Fellini, and you can watch it below: