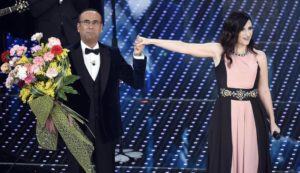 Nothing confirmed yet, but 1997 Eurovision participants could be heading for a comeback as they might join the Sanremo 2017. Other interesting names are mentioned as well. Italian superstar Laura Pausine however once again declines the co-host offer.

For years Italian superstar Laura Pausini has been the hot favourite as host of Sanremo, and have also been asked. She has expressed an interest, but is however too busy touring the world. So we have to wait for at least one more year to see her hosting the event. Laura started her international career after winning the newcomers division in Sanremo 1993, with the legendary La Solitudine. In this year's Sanremo she was guest on the first night of the competition. Wearing the same jacket as back then she performed her winning entry and received a big applause.
Italian press now reports for other candidates that could be co-hosts of Sanremo 2017. Barbara D'Urso who is a famour tv presenter or Miriam Leone a web celebrity could be wise choices. Other options according to the press are the actress Chiara Ferragni and Sveva Alviti. However Giorgio Panariello and Leonardo Pieraccioni a famous comedian duo seems the hot favourites at the moment.
Italian media reports for Sanremo hopeful participants
On 12th of December the list of next year's Sanremo participants will be published. One of them will wave the Italian flag at the 2017 Eurovision Song Contest. Local media reports a lot of names for the Campioni section. According to them Chiara, Nina Zilli, Francesco Sarcina, Michele Zarrillo and Giusy Ferri are sure contestants. Marco Carta (winner of 2009), Clementino, Fausto Leali, Syria, Nesli and Elodie are also highly tipped, as is last year's newcomers winner Francesco Gabbani.
Other names the Italian media reports for a possible participation are Valerio Scanu, Nek, Karima, Deborah Iurato, Irene Grandi, Pierdavide Carone. The common thing for all these names is that they have previous experience in Sanremo.
Jalisse who has represented Italy at the Eurovision Song Contest 1997, after they first won Sanremo has already proposed themselves. Other artists self-proposed are Geradina Trovato and Al Bano. While Alessandra Amoroso, Alessio Berbabei, Alice Paba, Briga, Fausto Leali, Loredana Errore admitedt they are thinking of their participation.
Sanremo and Eurovision Song Contest
The Festival della canzone italiana di Sanremo is the most popular Italian music festival, held annually in the city of Sanremo, usually referred to as Festival di Sanremo, or outside Italy as Sanremo Music Festival. It serves as the inspiration for the Eurovision Song Contest when that was started in 1956.
The first edition of the Sanremo Music Festival held in January 1951 was broadcast by RAI's radio station. Starting from 1955 all the editions of the Festival have been broadcast live by the Italian TV station Rai 1.
Sanremo has been used as the way of choosing the Italian entry to the Eurovision Song Contest in the years 1956 to 1966, as well as in 1972, 1997, 2011, 2012, 2013, 2015 and 2016. It has also launched the careers of many very famous Italian singers, including Andrea Bocelli,  Paola e Chiara, Giorgia, Laura Pausini, Eros Ramazzotti, and Gigliola Cinquetti.
Below you can watch Fiumi Di Parole (Italy's entry at the 1997 Eurovision Song Contest) as it was performed by Jalisse in Sanremo 1997 Music Festival.