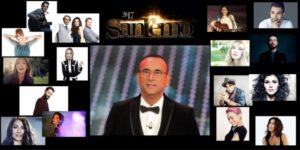 Who are the 22 artists taking part in the Campioni category of Sanremo 2017 that were announced last night? We take a closer look at the potential Eurovision candidates.
Last night, the 22 Campioni artists for Sanremo 2017 were announced. These artists are already established names within the Italian music scene.
Let's meet the 22 acts taking part in this category.
Fiorella Mannoia
Fiorella Mannoia, 62 is an Italian pop singer. Ηer career began when she participated in the 1981 Sanremo with the song Caffè nero bollente. In 1984 she participated again, this time with the song E muoviti un po. Success came when she changed labels to DDD and subsequently won the Critic's Prize at the Sanremo Music Festival for two years in a row. First in 1987 with Quello che le donne non dicono and again in 1988 with Le notti di maggio. In 2000, Fiorella Mannoia was invited to host the 50th Festival of Sanremo. On 2 June 2005 the President of Italy, Carlo Azeglio Ciampi, conferred on Fiorella Mannoia the rank of Ufficiale (Official) in the Ordine al Merito della Repubblica Italiana (Order of Merit of the Republic of Italy). Fiorella has also devoted herself to social issues, lending her attention to subjects such as abortion and divorce, and has also expressed her solidarity with the aid association Emergency. Througout her career, she sung in a number of languages including French, Spanish, Portuguese, English, as well as Neapolitan and her native Italian. This will be her 5th attempt at the Sanremo festival.
Marco Masini
Marco Masini was born in 1964 in Florence. He is a singer-songwriter and musician. Known in the 90s for his extravagant way of singing, his voice can reaches difficult notes according to experts. Something that makes him unique. Marco Masini has become one of the greatest icons of Italian pop of the last 20 years, with a string of hits from his discography. Marco won both divisions of Sanremo music festival. In 1990 he won the newcomers section while in 2004 the Campioni category.
Chiara Galiazzo
Chiara Galiazzo is better known as simply Chiara. She is 30 years old and rose to fame in 2012, after winning the sixth season of The X-Factor. Her debut single, titled Due respiri was co-written by the Italian superstar Eros Ramazzotti, and debuted immediately at #1 on the Italian Singles Chart. Chiara was 8th in the 2013 Sanremo music festival with the song Il futuro che sarà. She is currently one of the most popular female Italian singers. In 2014 she won the Rockol Award for the Most Promising Italian Artist. Many consider Chiara as one of the favourites to win Sanremo 2017.
Giusy Ferreri
Giusy Ferreri is an Italian singer-songwriter born in 1979. In 2008, Ferreri took part in the first Italian edition of the talent show X Factor, and reached second place. Her debut album reached the top spot on the Italian album chart and stayed there for eleven consecutive weeks. It went on to become certified 4 times platinum. Giusy won the 2008 Italian music award for best new artist. Worldwide she has sold over 2 million copies to date. This will be Giusy's first attempt at the Sanremo festival.
Fabrizio Moro
Fabrizio Mobrici known by his stage name Fabrizio Moro, is an Italian singer-songwriter and television presenter. He released his debut album in 2000 and achieved commercial success in 2007, after winning the Newcomers' Section of the Sanremo Music Festival with his entry Pensa. The song became a number-one hit in Italy, while the album with the same title was certified gold. As of 2015, he has released six studio albums, an EP and a live album. He also wrote songs for other artists, including pop rock band Stadio, who won Sanremo 2016.
Sergio Sylvestre
American pop singer Sergio Sylvestre emerged in 2015 as a contestant on the popular Italian talent show Amici di Maria De Filippi. Born in Los Angeles to Mexican and Haitian immigrant parents, Sylvestre began singing after an injury derailed him of his football career. Following a vacation to Europe, he was so enchanted by Italy and subsequently decided to move to the southern city of Puglia. After successfully auditioning to Amici's 15th season, Sylvestre proceeded to win over both the judges and the Italian audience, and was eventually crowned the winner in May 2016. He released his debut album, Big Boy, later that year.
Gigi D'Alessio
Luigi "Gigi" D'Alessio is an Italian pop singer and songwriter born in Naples. He was well known in Naples in the early 1990s and throughout Italy due to his participation in the Sanremo Festival in 2000 and 2001. He also made overseas appearances. In 2012 he took part for a third time in the Festival of Sanremo with the song Breathe sung in tandem with Loredana Berte. He lives in Rome with the popular Italian singer Anna Tatangelo, who is two decades younger than him. In his career he has sold over 20 million records.
Clementino
Clemente Maccaro, better known as Clementino, is an Italian rapper and beatbox artist born in 1982, who performs in both Italian and Neapolitan. After becoming known through various freestyle competitions, he recorded his first album, entitled Napolimanicomio. His second album, titled IENA (Io e Nessun Altro) from 2011, was preceded by the single La Mia Musica and featured collaborations with several prominent rappers including the American R.A. the Rugged Man, and becoming a great success with critics and audiences. In 2012, as half of the duo Rapstar with fellow rapper Fabri Fibra, he released the album Non È Gratis , and early in 2013, delivered the "mixtape" CD Armageddon in collaboration with Dope One and beatbox artist OLuWong, who had previously collaborated with other Italian rap groups, Sud Sound System, and NTO. A few weeks later came Clementino's new single O Vient, which preceded his third solo album Mea Culpa. Clementino participated in Sanremo 2016 with the song Quando Sono Lontano.
Nesli & Alice Paba
Francesco Tarducci better known as Nesly Rice or Nesli, is an Italian singer and music producer for Teste Mobili Records. He is the younger brother of Italian rapper Fabri Fibra. Tarducci released his first demo, Fitte Da Latte, in 1999 with the help of his brother Fabri Fibra. The recording was a big success, showcasing Nesly's rapid-fire, complex lyrical style. Lato and his brother Fabri formed the influential duo Uomini di Mare, one of the many well-respected Italian hip-hop units with whom Nesly collaborated. With a few years and a number of successful singles under his belt, Nesly released his debut solo record, Ego. Using the name Nesli, his 2007 release Le Verita Nascoste was widely regarded as his most mature release to date. Produced by Universal, the album earned Tarducci his first significant presence on international hip-hop chart. In 2015 he participated in Sanremo with the song  Buona Fortuna Amore.
Paola Turci
Paola Turci was born in 1964 in Rome. She is a singer, songwriter, performer and author. Turci's musical debut was in 1986 when she participated in Festival of Sanremo with the song L'Uomo di ieri.  In the three following years she participated again in the Festival of Sanremo, winning the critic's award in 1987 with the song Primo tango. She participated again in the Festival with the song Saró bellissima, and in 1989 she returned with Bambini. Thanks to this song she comes first in the Emerging artists category of the Festival of Sanremo. Bambini is the song that clearly established Turci's popularity. In 1990 Turci graced for the fifth time the Festival of Sanremo stage, with the song Ringrazio Dio.
In 1993 the artist participated for the sixth time in the Festival of Sanremo, with the song Stato di calma apparente. Stato di calma apparente is an autobiographic song, where, for the first time, Paola Turci emerges as author. In 1996 she returned for the 7th time in Sanremo with the song Volo cosí. In 1998 she presented, Solo come me in Festival of Sanremo. In 2001 she reached the 5th place in Sanremo, the highest ever had with the song Saluto l'inverno. In 2006 with songs Quasi settembre and Lasciami credere she won the Amnesty Italy awards. In 2008 she is back in the Ariston theatre for the 10th time supporting, with Marina Rei and Max Gazze competing in the Festival of Sanremo with the song Il solito sesso. This will be her 11th participation in Sanremo festival!
Francesco Gabbani
Francesco Gabbani is an Italian singer and multi-instrumentalist from Tuscany. Born in 1982. At the age of 18, Gabbani signed his first record deal with his project Trikobalto. The music videos of their first two singles even made it onto TV screens worldwide through MTV, All Music and Rock TV. Together they played at the most important Italian Festivals including Heineken Jammin Festival and opened for Oasis. In the spring of 2010 Francesco decided to leave the band and signed a record deal for his first solo project, his first official solo album Greitist Iz was released in 2013. Gabbani signed to BMG in 2015. In October BMG presented Gabbani's single Amen at the Sanremo Giovani section where the jury selected him to compete among twelve finalists. Francesco was the winner of Newcomers category of Sanremo 2016.
Ermal Meta
Meta was born in Albania. At the age of 13 he moved to Italy. In 2006 he took part with a band in Newcomers section of Sanremo festival. In 2012 his group was split up. He has writen songs for the most of the Italian singers like Marco Mengoni, Analissa and others. In 2016 he took part as a solo artist in the Giovani category of Sanremo.
Zarrilo
Michele Zarrillo is an Italian singer-songwriter. He is mainly known for hits such as Una rosa blu, Cinque giorni and La notte dei pensieri. In 1987 he won the Sanremo Music Festival, competing in the newcomers' section. Zarrillo took part in the competition several other times, the last time in 2008 with the song L'ultimo film insieme. As a songwriter, he penned songs for several artists, including Ornella Vanoni and Renato Zero. This will be his 12th participation in Sanremo Music Festival.
Lodovica Comello
Lodovica Comello is an Italian actress, singer, dancer and TV host who gained international popularity for her role as "Francesca" in the Argentine Disney Channel series,Violetta.  In 2013, Comello released Universo, her first single while in the same year she released her debut album. Her first album features nine tracks co-written by Comello and one English-language cover of I Only Want To Be With You. In May 2014, Comello announced plans to embark on a world tour in 2015.
Bianca Atzei
Veronica Atzei, better known by her stage name Bianca Atzei was born in Milan in 1987. After the release of a few singles published by the record label Ultrasuoni between 2012 and 2014, she rose to prominence in February 2015 with the participation at the Sanremo Music Festival 2015 performing the song Il Solo Al Mondo. The single came before her first album release Bianco E Nero, published in the same year by Baraonda Edizioni Musicali, one of Ultrasuoni majors. From September 16 until October 28, 2016 is an entrant of Tale e Quale Show, a talent show directed by Carlo Conti and broadcast by Rai 1
Ron
Ron, is the stage name of Rosalino Cellamare. Ron is an Italian singer-songwriter and musician. He debuted under his true name at the 1970 edition of the Sanremo Festival, together with Nada. In the following years he distinguished as songwriter for Lucio Dalla and others. After a period as actor, he returned collaborating with Dalla and De Gregori in their tour of 1979. In 1996 he won the San Remo festival with Vorrei incontrarti fra cent'anni, sung in duo with Tosca.
Elodie
Elodie was born in Rome and she is 26 years old. She became known to Italian television audiences through her appearances as a contestant on the fifteenth season of the music competition Amici di Maria De Filippi. On the show, she impressed judges and audiences with renditions of songs like Rino Gaetano's A Mano a Mano.She auditioned for The X Factor in 2008, but she didn't manage to qualify to the live shows of the show.
Al bano
Albano Carrisi or better known as Al Bano, is a singer, actor, and winemaker. He was born in the town of Cellino San Marco where he still lives. His mother named him Albano because when he was born, his father was fighting in Albania for the Royal Italian Army during the 2nd World War.
He made his debut in 1966 both as a singer at the Festival delle Rose and on television. He won the Disco per l'Estate, an Italian song contest with Pensando a te in 1968. Soon afterwards, he started a musical collaboration with Romina Power, whom he married in 1970. After their marriage, they recorded Storia di due innamorati. They sang as the duo Al Bano & Romina Power for almost thirty years. The pair became famous in Italy, Austria, France, Spain, Romania and Germany and also took part in the Eurovision Song Contest 1976 with the song We'll Live It All Again.
They took part in the Sanremo Music Festival 1982 with the song Felicità, which came second. They also won first prize in 1984 singing Ci sarà and again took part in the Eurovision Song Contest 1985 with Magic Oh Magic. Both of their Eurovision entries placed 7th. Al Bano and Romina Power took part in the Sanremo Music Festival three more times (1987, 1989, 1991).
In 2000, Al Bano returned to the Eurovision stage, providing backing vocals for the Swiss entry La vita cos'è? performed by Jane Bogaert. Al Bano returned to Sanremo Music Festival in 2007, for the last time where he sang Nel perdono which came in second place. In June 2016 it was announced that Al Bano was granted Albanian citizenship due to his close ties with the country and career successes in Albania.
Samuel
Samuel Umberto Romano was born in 1972 in Turin. He is a singer songwriter in the Italian rock band Subsonica. Their eponymous debut album was released in the spring of 1997. The band gained significant success in 2000 by playing in the Sanremo Music Festival. In their career, they have produced 7 studio albums and sold nearly around 400,000 CDs. Their latest studio album Una Nave in una Foresta, was released in September 2014.
Michele Bravi
Michele Bravi is 22 years old and he is the youngest of the participants. He is a pop singer and YouTuber. He rose to fame after winning the seventh series of the Italian X Factor. His coronation song, La vita e la felicità was penned by Tiziano Ferro and after being released as his debut single, it reached the top spot of the Italian Singles Chart. Bravi's debut album, A passi piccoli was released in June 2014. Having left Sony for Universal Music, in 2015 Bravi started a YouTube channel in order to attain a closer contact with his fans. During the same year he started recording new songs and in October his EP I Hate Music was published. It was preceded by the single The Days. All songs were co-written by Bravi and the lyrics are in English.
Raige & Giulia Luzi
Giulia Luzi is an actress and a singer. She rose to fame for her role as "Giulietta" in the musical Romeo e Giulietta – Ama e cambia il mondo, and later took part in the fifth series of Your face sounds familiar. Raige is a popular rapper who gained attention with the song Dimenticare (Mai) feat. Annalisa. This will be their first time working together and their first attempt at Sanremo Music Festival.
Alessio Bernabei
Alessio is 24 years old and this will be his 3rd participation in a row in Sanremo Music Festival. He is a pop artist and was an ex member of the band Dear Jack. His last year's entry Noi siamo infinito was among the favourites to win. However because of his backing vocals, he ended in the 14th place in the final. Alessio is most popular among the younger ages.