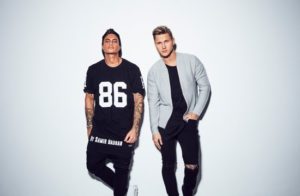 Cheeky duet Samir & Viktor and Hometown boy LIAMOO sailed to victory in this weeks semi final and secure their place in the Melodifestivalen final on March 10th.
After last week's performances, favourite Benjamin Ingrosso qualified along with John Lundvik. This week, we saw another seven performances from previous Eurovision national final veterans, Melodifestivalen veterans and comedians.
Scandanavium played host to tonight's semi-final, an arena that is familiar to contest fans as it held Eurovision back in 1985 when Norway's Bobbysocks won with their song La Det Swinge, and where Lill Lindfors famously lost her skirt. We were welcomed again this week by David Lindgren and his camp co-host Fab Freddie. Love them or hate them, they brighten up the show – as we have seen, not all presenters over the years have been able to do that.
David opened the show in spectacular fashion with a performance of the BeeGee's classic Staying Alive alongside naked torsos and pole dancing ladies. He then got as comfortable as us by putting on a purple lounge coat and settling in for tonight's show in relaxed fashion.
The Show
We were treated to another seven songs tonight and, of course, all songs were staged impeccably.
Samir & Viktor- Shuffla
Starting off in a 1920's silent movie era style, the song quickly changed into their signature up tempo, crowd pleasing dancing track.This will ultimately be compared to Yolanda Be Cool's We No Speak Americano with shuffling dance moves that were popular 5/6 years ago. The boys aren't known for their strong vocals, but they always bring a party to stage.  Great Performance and stage show.
Ida Redig- Allting Som Vi Sa
A nice, inoffensive pop song. Ida looks the picture of innocence and she sings and performs well. Unfortunately, the song just isn't instant or memorable enough to make an impact, at least for me personally. It also becomes quite repetitive. She got a great response in the arena though.
Jonas Gardell- Det Finns En Väg
Arguably, the most well-known of all the acts tonight, Jonas is better known for his novels and playwriting as well as being a comedian. Many thought he would bring a comedy song, along the lines of Edward Blom last week. He surprised with his teary ballad. It was a bit Eurovision by numbers, but it is always nice to be surprised.
Margaret- In My Cabana
Well, among Eurovision fans, I think the majority of us were waiting for her return. Margaret had previously declared that she would not try to reach the contest again after her second place finish with Cool Me Down in Poland 2016. Whether her appearance here is to reach Eurovision or to boost her profile in Sweden, you decide. Her performance was assured and she sounded far more confident than she did in 2016.
Stiko Per Larsson- Titta Vi Flyger
The winner of radio competition P4 Nästa, Stiko now takes part in Melodifestivalen. The song is a mid-tempo 'boppy' song and he is undeniably a good singer.  This song, like the majority of the songs that have won their place in the competition over the years won't set Eurovision fandom alight.
Mimi Werner- Songburning
After making her debut in 2016 with Aint' No Good, Mimi is back to try her luck again and get out of a Melodifestivalen semi-final. Many hoped that the song would be in the same vein, yet this effort is considerably slower in tempo. It's not as distinguishably country, it has a slight Emmelie De Forest vibe mixed with pop-rock elements. Great performance, but would it do well at Eurovision? Hard to tell.
LIAMOO- Last Breath
Swedish Idol winner brings a very similar song to his previous release Playing With Fire to Melodifestivalen. It was a great performance and certainly the most contemporary song on show. The audience went crazy, which is hardly surprising as he is still well-known as a winner to a popular Swedish singing competition. He just has to stand on stage to qualify.
The Results
Result
Act
Straight to Final
Samir & Viktor
Straight to Final
LIAMOO
Second Chance
Mimi Werner
Second Chance
Margaret
5th
Ida Redig
6th
Stiko Per Larsson
7th
Jonas G

ardell
It was a predictable night with fan favourites Samir & Viktor and LIAMOO qualifying to the final. Mimi Werner and Margaret made it to the second chance round, leaving all three Swedish language songs in the semi-final.
What do you think of the result tonight? Did your favourites make it, 'direkt til final', or do they have to go through 'andra chansen'? Is there a song you liked that didn't make it? Let us know.