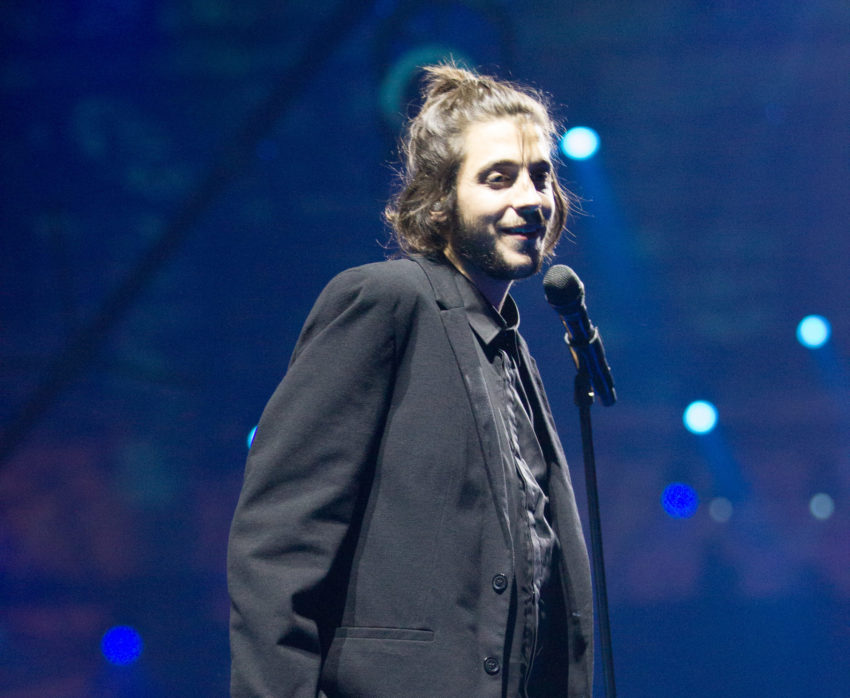 He will play a role in next year's Portuguese national selection, Festival Da Canção. As this year's winner, he is also expected to appear at the Eurovision Song Contest in Lisbon. However, currently it looks like Salvador Sobral wants nothing to do with it. 
RTP is bringing some unprecedented new changes to Portugal's national selection this year, as Salvador Sobral will be in charge of selecting one of the 20 songs that will be competing to represent the country in next year's Eurovision.
While this is an obvious homage to the singer for bringing Portugal's first Eurovision trophy home, it may not exactly be what Salvador wanted as parts of his future plans as he already looks sick and tired of all this Eurovision phenomena around him. Even though, the event is to blame for the relaunching of his commercial career, the Portuguese Pop Idol is now refusing to sing Amar Pelos Dois at his concerts.
That happened last July, 26th during one of his gigs. While everyone was aware that it was a joint concert with another singer, the entire audience expected the little treat at the end, but it didn't happen. After waiting about 15 minutes, it was obvious Luísa's brother wasn't returning to sing the Eurovision winning entry. The crowd ended up booing him before leaving the venue.
But that's not the only situation. A month ago, during the benefit concert in wake of Pedrógrão Grande's fire victims, the Portuguese singer headlined every news titles for a quite inappropriate comment that raised suspicions that, not only he isn't enjoying this sudden success but he never really wanted to breakthrough in the first place: "I feel like I can do anything and you'll applaud me. What if I fart right now? I want to see your reaction!"
Well, thankfully, he didn't put that into practice and apologised a few days later for the comment.
Though those two events caused headlines and a lot of buzz, Salvador Sobral's lack of interest in the song and in Eurovision was already obvious even before the competition took place. Besides his common comments that he had never watched a single edition of the show, during rehearsals, the Eurovision winner attempted to make a few changes to the song.
One can only hope that by March – when Festival da Canção will take place – people's hype for Salvador won't bother him anymore and will allow him to take a back seat and experience Eurovision in a completely different way… Maybe even being responsible for the winning song if his selected composer wins – a similar scenario to what happened to Luísa Sobral this year.
Portuguese composers will submit songs to Portugal's national selection
Next year will mark the 50th edition of Portugal's national selection for Eurovision – Festival Da Canção – and will have 20 songs competing. The program will be divided into three shows: two semifinals and one final. The first two will take place in RTP's studios and each will present ten songs.
The grand final, which will take place in Multiusos Guimarães next March, 4th as part of RTP's promise to promote other cities, will then gather the five finalists of each semifinal and select the winner that will represent Portugal in the Eurovision Song Contest 2018 next May, 12th.
Due to the success – and the unexpected final result – of last year's Festival da Canção that ended up being the country's first victory, RTP will maintain its decision on inviting certain composers but not at 100% as mentioned before. Out of the 20 entries, 17 will be invited by the broadcaster to write a song, produce it and select a singer. The three remaining spots will be decided in a completely unprecedented way.
Besides Salvador's choice, the two remaining spots will be open to Portuguese composers: one selected through a radio channel program – "Master Class" – and the other being submitted through RTP's website by anyone whose nationality is Portuguese or is currently living in the country.