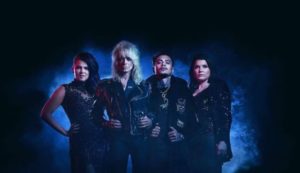 Following her success in last year's X Factor UK, Saara has today been confimed as one of the new judges on the show's reboot of the Finnish version of the contest
After teasing fans for days Saara Aalto has released her big news. That she will be new judge on X Factor Finland. Saara made the announcement on her facebook page this morning.
The former finnish national selection finalist will be joining fellow judges Michael Monroe, Suvi Teräsniska and Mikael Gabriel. As well as judging the auditions and performances, each judge will also be mentoring and providing coaching to their own category. Finland had their first and only series of the show back in 2010, but it seems due to the popularity of the British version in Finland last year, where Saara took part, that they have decided to revive it.
Teasing her fans yesterday, Saara wrote on facebook "Big Big announcement coming tomorrow. So excited about all these new things in my life at the moment. Life is an adventure. Just keep on flying, it can sometimes be scary but you always end up where you are meant to be".
Last year, Saara auditioned for the X Factor UK and despite not originally being selected to go through to the live shows by her mentor, was given another chance as Nicole Sherzinger's wild card. During the competition Saara went from strength to strength and eventually found herself in the final along with Matt Terry. Unfortunately for Saara, it was Matt who took the X Factor crown.
When does it begin?
The search for Finland's next superstar starts today. However, the show will not be aired until Spring 2018 on MTV3.