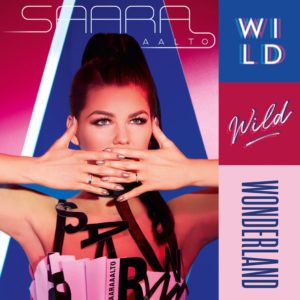 Saara Aalto fans are rejoicing as today she releases her long awaited international album "Wild Wild Wonderland" which features her Eurovision entry Monsters along with her two other UMK competing songs. The album is released just two days after her show "Eurovision Wonderland Live" took place in London.
Today, Saara Aalto has officially released her first album in three years. Wild Wild Wonderland is the first album to be released through Saara's new record label Warner Music and features all of this year's competing national final, UMK, entries. Including her Eurovision entry for this year, Monsters which was certified as Gold earlier this month. The album, which was dropped at midnight, will also feature No Fear which was her 2016 Finnish national final entry, which came in 2nd place.
You know how much I've worked on this, we've all been patient and now's the time!! This album is just like my life at the moment: adventures, big emotions, colors, pop, imagination, empowerment!!

Saara Aalto on Facebook
Following her success in the UK X Factor Aalto was offered a contract with record label giant Sony Music, but this wasn't meant to be. In October last year Saara announced in an interview with The Sun that she has accepted a deal with their competitor Warner Music. In an interview she said "I was honoured I was signed to Sony. But later I felt like they weren't the right team. When I met the people at Warner they were very excited about my style and making me into this big theatrical artist."
The long awaited album features songs written by world-renowed composers and lyricists Linnea Deb, Richard 'Biff' Stanndard, Eric Bazilian and Xenomania's Brian Higgins amongst others.
Track list
Monsters
Hän
Dance!!!
Queens
Half a heart
Dance like nobody's watching
Sirens
Don't deny our love
My touch
Walking on nails
Domino
Wild Wild Wonderland
No Fear (Bonus track)
Saara will be competing in the first semi final on the 8th of May where she will be fighting for a spot in the final. To get to know Saara a bit better, take a look at our video below where she shows more of herself as well as clips from a performance of Monsters from Amsterdam a couple of weeks ago.