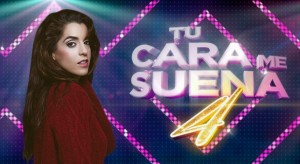 The Eurovision representative of Spain, who once danced in the rain on Europe´s most famous stage, now delights the audience of her country with mesmerizing impersonations of some of the best singers in the world hoping to win a big prize for her chosen charity.
Tu Cara Me Suena, also known in other European countries as Your Face Sounds Familiar was already a popular show in Spain but this year the ratings have risen to unexpected levels thanks to its cast of shining Spanish stars among which is Ruth Lorenzo. After having taken part last year as a guest start bringing the deceased Whitney Houston back to life, this year the singer has taken the challenge and every week she steps into the shoes of a different artist. Last week she covered a famous performance by Monserrat Caballé and Freddye Mercury, in which thanks to hologram technology Lorenzo appeared on stage as both artists, showing her vocal operatic capacities.
New tour and duet with Daniel Diges
The singer is also promoting the re-edition of her first album Planeta Azul, which will include new songs in English and also duets with some Spanish celebrities like  Miguel Poveda and Daniel Diges, who you might remember from his participation at the 2010 Eurovision Song Contest with Algo Pequeñito. To complete the promotion of her album she will make a tour around Spain from October 30th to December 23 visiting a line of cities like Zaragoza, Cartagena, Santander, Sevilla, Málaga, Alicante, Valencia, Barcelona, Madrid, Valladolid, Granada and her hometown Murcia.
Eurovision Song Contest once again?
TV shows, new songs, an album but Ruth doesn't stop there. Little after her Eurovision adventure back in 2014 the singer said publicly more than once that she would love to represent Spain in the contest again, now and during the presentation to the press of Tu Cara Me Suena the artist has said that if TVE were to ask her to be the Spanish voice in the competition this year she would definitely do it.