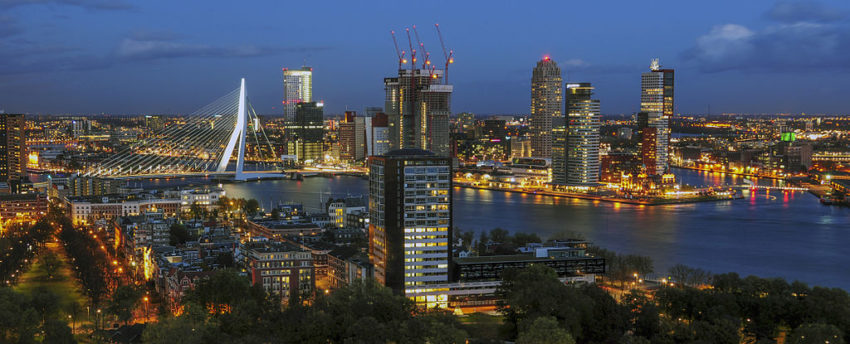 Rotterdam has been selected as the host city of the 65th Eurovision Song Contest in May next year. The Netherlands have hosted the competition four times, but this will be the first time that the event has been hosted by Rotterdam.
When Duncan Laurence won the Eurovision Song Contest for the Netherlands earlier this year a total of nine cities put up their hands in the hope of hosting the contest for it's 65th edition. One by one they pulled out starting with Leeuwarden who's arena didn't meet the height requirements set by the EBU. Then Amsterdam, The Hague and Breda bowed out of the race due to various issues such as venues being fully booked and the affordability of hosting.
In the end it was just Rotterdam and Maastricht left. Today, then followed the announcement that it will be Rotterdam who will host the 2020 Eurovision Song Contest.
Rotterdam has been one of the fan favourites in the race to host Eurovision due to it being easily accessible for travelling fans. Rotterdam has Europe's largest port and is well connected by ferry to the United Kingdom and France. Travellers wishing to travel to Rotterdam from Amsterdam's Schiphol airport can get there in around 20 minutes by train. The city is 23km (14.2 miles)  from The Hague and 61 km (37 miles)  from Utrecht.
As well as trains, Rotterdam boasts a variety of transport methods including a tram, metro and bus service as well as water buses.
Eurovision 2020 dates
Today, we also had the dates for next year's contest revealed. The final will take place on the 16th of May 2020 with the first semi-final on the 12th of May and the second one on the 14th.
In the video below you can remind yourself of why we are heading to the Netherlands next year: Duncan Laurence and his song Arcade. The performance is from Eurovision in Concert in April 2019, a month before he went to Tel Aviv, Israel and won the Eurovision Song Contest: