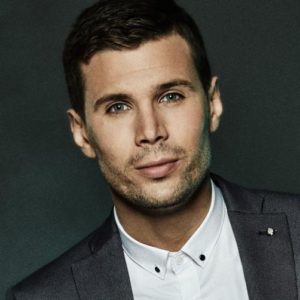 After their fifth place finish at last years Eurovision Song Contest, Sweden are back with their successful and always popular national final, Melodifestivalen. It kicked off with The Mamas and Robin Bengtsson qualifying for the final.
Tonight saw 7 acts take to the stage at the Saab Arena in the Southern city of Linköping where we seen a lot of returning Eurovision and Melodifestivalen acts as well as some new comers and a whole variety of genres on display.
The show started with an introduction to this years presenters Melodifestivalen veteran Lina Hedlund who is accompanied by Swedish Idol singer Linnea Henriksson as they visit many T.V. studios including bumping into Sarah Dawn Finer until they eventually find David Sundin, who bursts into song before joining the two girls on their journey to Melodifestivalen 2020.
We meet a young girl holding a sign and slogan made famous by environmentalist Greta Thurnberg and dance across a bridge before running backstage of the arena and starting into a song and dance number. We were then introduced to the acts for tonight's Semi Final and of course the best reactions from the crowd came, when Robin Bengtsson and Felix Sandman were announced.
The Mamas Move
Expected gospel, but more poppy and upbeat that John Lundviks offering last year. Lovely to see The Mamas out there doing it for themselves without their papa, John Lundvik.  The staging is minimal, but not much is needed as these three women have so much joy and exuberance that they light up the stage. It is also nice to see some syncopated dance moves.
Suzi P Moves
Starting in a hallway of light with four backing dancers Suzi P starts this Latin Urban pop song in style. She is a fresh performer that marries Swedish and English well in this contemporary offer. While her performance is good, she does look a little inexperienced and lost on stage at points and her vocals are a bit pitchy at times.
Robin Bengtsson Take a Chance
I don't know what to make of this song. It's a nippy sing along number and definitely not something we have heard at Melodifestivalen before. It's always nice to see a previous winner come back, which brings some gravitas to a participation. I'm not sold on this being a winner yet, still I won't rule it out. The performance is slick, but after 2017, that really shouldn't come as any surprise, fortunately no treadmills in sight. Robin stays pretty static on stage while dancing figures are projected on the screen behind him. Near the end of the song he leaves his podium to walk down the stage, you can see him trying to make the title lyrics an anthem by practically shouting them out.
Malou Prytz Ballerina
Another returning act, Malou burst onto the melfest stage last year with great results. This year she has enlisted the help of Melfest heavyweights Peter Bostrom and Tomas G:son. This is a standard pop ballad, and not too dissimilar to what we got from Sia a few years ago. This comparison can be used in her staging, she employs a dancer dressed identically to do some balletic dancing, similar to Sia's Chandelier video. Could do well, but I'm not overly excited by this personally.
OVÖ Inga Problem
This is like Panaetoz on Valium, it has an awesome summer vibe to it. These songs rarely do really well in this contest but are always fun to see variety. We see the two boys singing in boxes lit blue and red, as they move away they are joined by backing dancers.  It is a fun performance and they look natural on stage, I enjoyed this more than I thought I would.
Sonja Aldén Sluta Aldrig gå
There is always at least one veteran that comes back to the fold with a sleepy ballad, this is this years first. It's beautifully sung and she looks stunning in her gorgeous gown, but this just won't go anywhere and at the end of the night, will possibly miss out on progressing further. If this was 1998, this song would win, because this is Jill Johnson's Kärleken är 2.0.
Felix Sandman Boys with Emotions
I'm not going to lie this is what I imagine the male version of Billie Eilish to sound like. It's a great modern pop song with topical lyrics and a great underlying/understated beat, yet still dance in essence. This performance is very similar to Benjamin Ingrosso's Dance You Off, with led stripes and red lighting as quick camera shots keep us focussed on the performer. A great message song, and we all know that Eurovision is great for highlighting important social messages.
While we wait for the final results of tonight's show Linnea, Lina and David entertained us with their favourite past Melodifestivalen acts and winners including Sean Banan and Jan Johansen.
Results
Suzi P and OVÖ were eliminated first as the other five acts advanced with Sonja Alden coming in fifth place.
Direct To Final     The Mamas
Direct To Final     Robin Bengtsson
Second Chance   Malou
Second Chance  Felix Sandman
Did you favourite make it through in the competition or was there an act tonight you though should have made it?  Let us know in the comments.