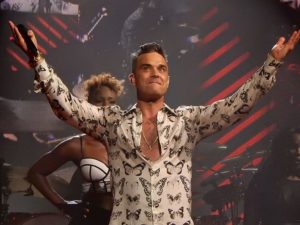 British superstar Robbie Williams joins this year's Sanremo party for a special guest performance. Fiorella Mannoia, on the other hand, is one of the participants, and she is tipped as the favourite to win the prestigious music festival, which selects the Italian Eurovision act.
Carlo Conti kept the biggest surprise at the end. The guest acts that have been already announced as Tiziano Ferro and Carmen Consoli, Mika, Giorgia, Ricky Martin, Rag'n Bone Man and Zucchero, Italian broadcaster RAI now confirmed some more names. Actor Raul Bova with his wife, actress and ex-Sanremo host Rocio Munoz Morales, Biffy Clyro, Clean Bandit and not least the British singer Robbie Williams.
Besides that great news, selected media and journalists had the opportunity to listen the songs of the upcoming Sanremo festival in advance, in order to be able to write at least something about them before the festival starts in a few weeks. The songs will be heard by the rest of the audience only when they will be performed for the first time on stage in Teatro Ariston, from February the 7th.
According to them, Fiorella Mannoia is the clear favourite. There's no doubt she's a great interpreter and the song seems to be a good one, too. Marco Masini is second and her basic opponent. Last year's newcomers Francesco Gabbani and Ermal Meta are tipped third and fourth, and after years and years not even getting to Sanremo, Paola Turci seems to be aiming high as she is the fifth favourite at the moment.
Sanremo 2017 will be held from the 7th to the 11th of February at the Teatro Ariston in the small town of Sanremo. The winner of the festival will have the right to represent Italy at Eurovision Song Contest 2017. If the winner does not accept this right (such as Stadio last year), then RAI will choose one of the other candidates, from whichever category they wish.
Below you can watch last year's Sanremo runner-up and Italian representative at Eurovision 2016 Francesca Michielin performing No Degree of Separation in Globe Arena: