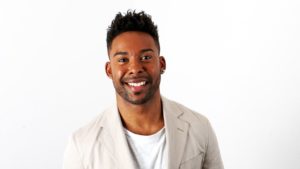 Tonight seen the fourth and last Semi Final of Melodifestivalen 2019. This week the show came from Sparbanken Arena in Lidkoping. Seven songs battled it out with John Lundvik and Bishara qualifying direct to the final on March 9th in Stockholm.
Lidköping hosted the fourth show tonight and it was an exciting night, after 3 weeks of semi finals the last brought some electrifying performances and one or two surprises. We are joined by our hosts once again Eric Saade, Sarah Dawn Finer and Marika Carlsson.  Kodjo seems to be enjoying a party at home with friends while watching the show, and we got to see him and all those friends enjoying the show after each performance.
This week seen the return of a previous Swedish ESC act in the form of Arvingarna, who represented the Scandinavian country in Millstreet, Ireland at the 1993 contest with the song Eloise.  We also seen the return of Melodifestivalen favourites such as Anton Hagman (2017), Lisa Ajax (2016, 2017) and John Lundvik (2018). Yet none hold a light to the undisputed champion of Melodifestivalen entries that Ann-Louise Hanson have, a grand total of 13.  But will this year be the year she eventually wins at the contest?
The Songs
Pagan Fury – Stormbringer
Dressed all in black with feathers the lead singer, Arven Latour navigates around LED columns as she belts out this pop rock anthem to the crowd.  It is a great start to the show and she is an accomplished performer. This is a song well suited to being performed live, yet it also would work in a video game which is what the band is known for.  They are the official band for game Crusader Kings II. Interesting to see how this would do on a Eurovision stage.
Anton Hagman – Kanner Dig
Anton is back after his successful stint on Melodifestivalen 2017. This time he comes back with a more poppy sound and brighter staging. He seems to be enjoying himself on stage and is a more competent performer.  This for me personally just flew by and didn't have much of an impact. He has a fan base so when the results come in it may not surprise many if he qualifies in someway, but not a winner I fear.
Lisa Ajax – Torn
Another Melodifestivalen alum is back, this is Lisa's third time in the competition and it really shows that experience is such an important factor in succeeding. She comes back with a fantastic song, performed impeccably and her voice in particular is so much stronger and resonating. This is now one to look out for.
Arvingarna – I Do
Ahh Sweden loves bringing back older and more established acts for a great nostalgic feel to their competition and this gives me all those feels. This is just a great hark back to the great show band sounds that we remember from the 80's and 90's.  It is exactly what I thought we would hear from this act. They also haven't changed much (although they have got rid of those hideous suits). The crowd gave the biggest reaction of all performances up to that point and rightly so.  This could do really well, but I feel as though this is not a song that wold garner many votes from the international jury.
Bishara – On My Own
What a cute performer, his voice is good and the song is pleasant if a little dated. He may just look and act a little too young on stage, and by this I mean he is nervous and a little unaware of the stage. This will all come with time, and while he may do well in the competition I don't feel this will be his time. The song is a nice ballad, co-written by Benjamin Ingrosso, last years Swedish participant at Eurovision.
Ann-Louise Hanson- Karleken Finns Kvar
Well isn't this just charming, Ann-Louise looks stunning and sings this beautiful melody on a stage set up like her dressing room. Her backing singers and her are just enjoying a chilled vibe on stage and the crowd obviously appreciate the performance. I just feel that out of the two nostalgic acts on display tonight Arvingarna has the best chance of advancing.  Still well done to Ann-Louise.
John Lundvik – Too late for Love
John is back, and no sign of a piano as well. Who knew he could move us in a completely different way. This is such an uplifting soulful song and his backing singers give so much energy to the performance. John performs this so well, and that is no surprise as he has such amazing experience in live performing. He has already won one national final this year (UK's Songwriter) wouldn't it be interesting to see him go up against one of his own compositions at the main contest.
Results
Direct to Final: Bishara, John Lundvik
Second Chance: Lisa Ajax, Arvingarna
5-7 Place: Ann-Louise Hanson (5), Pagan Fury (6/7), Anton Hagman (6/7)
Sweden at the Eurovision Song Contest
In honour of one of tonight's acts, here is Arvingarna's 1993 ESC performance in Millstreet, Ireland.