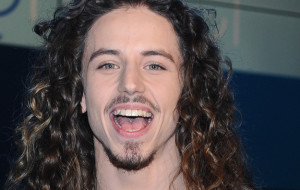 Poland became the second country tonight to pick their representative for the Eurovision Song Contest 2016 to be held in May in Stockholm, Sweden. As a result, Michał Szpak will sing Color Of Your Life for his country in Stockholm in May.
This is the first time Poland has held a competition to choose its entry since its return in 2014. The country will perform in the first half of the second semi-final on May 12th.
The Songs
Taraka – In The Rain
Possibly the most old school Polish sounding of all the entries. This seems to have a bit of a political message going for it. Very traditional accordion accompanying the song.
NAPOLI – My Universe   
Bless the little princess, last seen getting on her Peter Pan ship and flying out of the Belarussian final and landing bang smack in the middle of Poland's final. The song has been given a stronger mix, but, if it fails here, we're running out of countries to represent.
Natalia Szroeder – Lustra
This starts off slow, but the pouting maiden soon kicks it up a notch and kicks in a bit of a beat. It has somewhat of a sixties feel, nothing offensive but just like so many others though compliments are due for performing in Polish
Dorota Osińska – Universal
What a lovely breathy vocal to start the show. This is the call for world peace from Poland, but without the schmaltz. Sung and shrieked in equal measures, this could appeal to a global audience.
Kasia Moś– Addiction
More electro music with a long musical introduction. The problem with this song is that it seems to be addicted to hitting the one note all the way through. There are no ups and downs, which will ultimately be its downfall.
Ola Gintrowska – Missing
A strong drum beat accompanies the flaming redhead throughout the song. A song about missing someone but it seems to be too happy, whereas this needs to be more dramatic due to its subject matter. However, provided the lyrics are ignored, it has a good tune and may be a bit of a contender.
Michał Szpak – Color Of Your Life
This starts off as if it's going to be a big ballad, but it soon knocks that idea on the head and raises itself into a mid tempo, whereas the slower pace might actually have been an advantage.
Margaret – Cool Me Down
Modern beats, seen as the main rival to Edyta. Certainly this belongs in today's top 40 and nice to see countries making a nod to the charts rather than what they think a typical Eurovision song is.
Edyta Górniak – Grateful
Everyone wants Edyta back in the contest so does it really matter what the song sounds like? This is obviously a different and more mature Edyta than 1994 so let the cards fall where they will, either she's winning this or she will go back to her successful career with no more thoughts of Eurovision.
The Show
The show took place at the TVP Headquarters in Warsaw and was hosted by Artur Orzech.
The Results
Position
Taraka
In The Rain
 1,9%
6th place
NAPOLI
My Universe
 0,5%
9th place
Natalia Szroeder
Lustra

(Mirrors)

 5,9%
5th place
Dorota Osińska
Universal
 6,2%
4th place
Kasia Moś
Addiction
 1,6%
7th place
Ola Gintrowska
Missing
 1,2%
8th place
 Michał Szpak
Color Of Your Life
 35,5%
 WINNER
Margaret
Cool Me Down
 19,9%
 1st runner up
Edyta Górniak
Grateful
 17,5%
2nd runner up
The Polish public chose the winning entry. In the end they have gone for Michał Szpak and his entry Color Of Your Life.
Poland In The Eurovision Song Contest
Poland came into the contest kicking and screaming in 1994 placing second with its debut entry Edyta Górniak and To Nie Ja!. Alas, after the promising start, only one more of its eighteen entries have finished in the top ten: Ich Troje and Keine Grenzen-Żadnych Granic, which finished seventh.
A spate of non qualifiers and an equal last place between 2005-2011, Poland withdrew from the contest, only returning in 2014 with Donatan and Cleo with My Słowianie, which fared marginally better, placing 14th. Last year, Monika Kuszyńska returned Poland to their more customary 23rd placing with In The Name Of Love.
Below enjoy a video of highlight's from Poland from the last six years remembering they were absent for two years. The video may contain content that you haven't seen before!