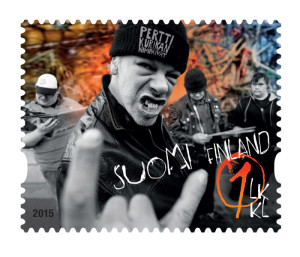 This year's Eurovision participants from Finland, Pertti Kurikan Nimipäivät, have got their own stamp in Finland.
A few days ago the Finnish postal service released a new series of postage stamps, and one of the stamps shows this year's representatives in Eurovision, the four-piece punk band Pertti Kurikan Nimipäivät.
Since they won the national final in Finland earlier this year they have earned global admiration because the four members of the rock band have from Down syndrome and autism. Unsurprisingly, the stamp has spurred interest internationally.
Pertti Kurikan Nimipäivät, which is the 49th Finnish representatives in Eurovision, has even managed to be more popular than the monsters from Lordi who won the contest back in 2006.