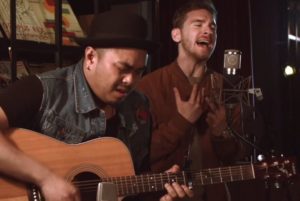 "I'm Alive" released today, is the fourth Eurovision cover from Austrian's Nathan Trent. He has now released the same number of covers as Amir did last year. 
This year's cover darling, Nathan Trent, is now at four Eurovision covers. Today, he released the Albanian entry from 2015 I'm Alive. Back then it was song by Elhaida Dani who made it to the final on the last spot. In the final she finished 17th with 34 points.
Just like with the previous three covers, Trent once again is joined by Filipino/Austrian musician Lennox on guitar. The song is recorded at 25hours Hotel at MuseumsQuartier.
Watch Nathan Trent's version of the 2015 Albanian Eurovision entry in the video below.