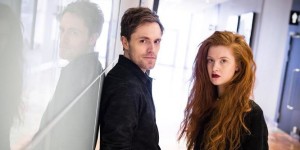 A Monster Like Me, the 2015 Norway Eurovision entry is getting a remixed re-release. The duo's single has been released to iTunes and streaming services with a few different arrangements.
Due to popular demand, A Monster Like Me has been reissued for buying from all music download sites again. Only this time there is a twist, with an extra verse and some new accompaniment.
A Monster Like Me placed eighth for Norway at last year's Eurovision Song Contest.
Now after, Mørland and Debrah performed the song at the Norwegian selection this year, the duo have had the single re-issued. This time there is, well a new middle section, but it's actually the original middle section that was dropped to make the song three-minute Eurovision friendly.
As an extra bonus the track also now features backing by the Oslo Philharmonic Choir. Get it wherever music is sold and enjoy screaming "Just Go" again, along with the talented duo. The release follows soon after the duo's new solo singles from last month with Skin and To Figure.
Enjoy the performance from the Norwegian final