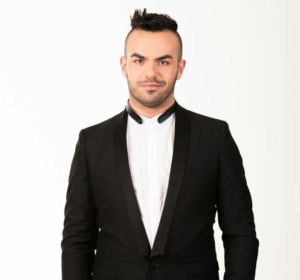 Slavko Kalezić, Montegro's representative at this year's Eurovision Song Contest, has just completed recording of the vocal parts of his entry Space during this week in Stockholm.
On 29th of December last year RTCG, the Public Service Broadcaster of Montenegro, announced that 31 years-old actor, dancer and singer Slavko Kalezić will represent Montenegro in Kyiv in May.
Last Sunday Kalezić arrived to Sweden's capital in order to record his Eurovision entry in Art Ery Studio. Stefan Örn, Jovan Radomir and Johan Kronlund, all well known in Eurovision circles, were responsible for production and arrangement. Örn composed the winning entry from Azerbaijan, Running Scared, in 2011. Kronlund was involved in composing three other Azerbaijani entries: Drip Drop (2010), When the Music Dies (2012) and Start a Fire (2014). Jovan Radomir is best known for presenting music programmes for Swedish national television. He has also worked as an actor, author and lyricist. The song titled Space is written by Momčilo Zeković, who said that he is very satisfied with the whole project. Zeković explained, that it was a great pleasure to work with a very professional producer team. According the songwriter, Slavko Kalezić completed his part of job in just two days.
Kalezić stated, that he is very happy with the final result, which gave him a lot of positive energy. Jovan Radomir said that Kalezić deserves every praise for his work. Radomir also said, that he is honoured to help Montenegro in order to be presented in the best possible way in Kyiv. The country will perform in the first semi-final the 9th of May.
It is expected that Montenegrin entry Space will be presented for the public in the first half of March. The next step in Slavko Kalezić's preperations is making a video for the song.