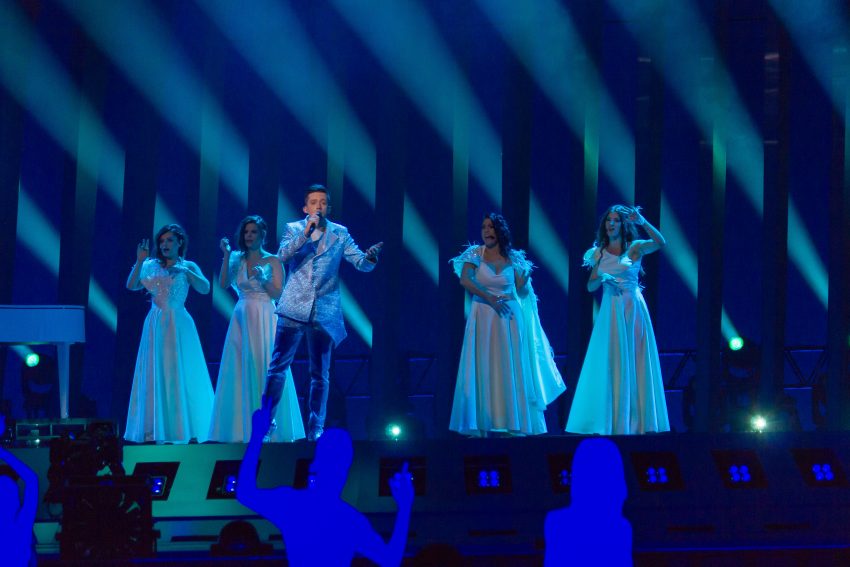 A very simple performance was all Vanja needed to sell his no frills Balkan ballad. The staging was simplistic and intimate and helped to sell the song very well
Inje
.
Gallery
Second Rehearsal
Josef, Czech Republic ( from the arena) Montenegro stays faithful to the tradition of Balkan countries and their ballad. This Montenegrin realness is really really magical. On top of that, there is the famous white piano on the stage, as well as the four Balkan beauties who are not only dancers but the backing vocalists as well. Vanja has amazing suit that looks either as a fish or a water. For me, Inje should definitely qualify, but I am afraid that the Eurovision audience may be already fed up with this kind of music as the same recipe was used many times before.
Michael, United Kingdom – (from press centre) This slow ballad grabs your attention through its simplicity. With nothing to distract you going on in the background, all you need is the lush sound of Vanja's voice. A dark horse for sure, especially coming up right after Sweden, don't discount this one from reaching the final.
Complete the sentence
First Rehersal
The performance from Montenegro starts with a pianist playing a white piano. All very personal, gentle and intimate. After that, Vanja is seen at the front of the stage in a light blue modern, but classy powder blue suit. Behind him are yellow stage lights, but as the camera pulls away, four divas dressed in white appear.
The ladies add power to the chorus and at the last verse do some moving and configuration changes, just to add something to the staging. However nothing more is needed. The vocals are perfect, this is a Balkan ballad at its very best. The song comes at just the right time in the running order. Whoever placed it here is a genius.
How Vanja Radovanović was selected
On the 17th of February, five acts competed in Montevizija 2018, the Montenegrin national final. The five finalists had been chosen from 31 entries submitted to the broadcaster RTCG. It was a requirement that the song were performed in the native language of Montenegro.
After all five songs had performed, first round of voting took place. Top 3 advanced to the super final, and here Vanja won a tight national final where Katarina Bogićević finished as runner-up close behind.
Montenegro at the Eurovision Song Contest
It's not easy being a Eurovision fan from Montenegro, unless you simply already settled with just seeing your country take part. Montenegro debuted at the contest in 2007 by Stevan Faddy, and they have only reached the final twice in nine appearances.
Coincidenntly, it happened twice in a row that the country made it to the final. First time in 2014 where Sergej Ćetković finished 7th in the semi-final and 19th in the final. The year after, Knez improved that result as with the song Adio, he came 13th, and secure Montenegro their best Eurovision result.