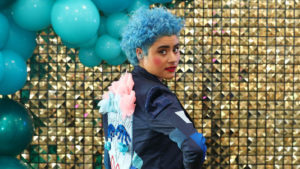 This evening, or this morning in Europe, Australia Decides was held at the Gold Coast with Montaigne winning the right to represent Australia. She will pack her case in May and head to Rotterdam with the song Don't Break Me.
This is the second time that Australia has decided their representative using this show and they will be hoping this year that their excellent results from the past will continue.
The Show
The show was held at the Gold Coast Convention and Exhibition Centre in Broadbeach, Queensland. What better way to open a show than a rendition of last year's entry Zero Gravity by Kate Miller-Heidke. Sitting by the piano, looking regal in a crimson dress, she gave a toned down version of the song accompanied by a mini orchestra. The queen was still wearing her crown, but in a few hours she will need to hand it over.
Our hosts previewed what was coming up later, with a quick showing of the ten competing artists. There then followed a quick recap of what Eurovision was about, and a quick peek of Australia's past entries.
After all the songs had been performed, a couple of recaps were shown to allow those stragglers who haven't made up their minds, one last chance to vote. Inspiring videos were shown to let the public know how much Eurovision means to them.
Then it was time for the Gold Coast golden interval act, where Måns Zelmerlöw took us back to 2015 with his winning song Heroes. Prior to Måns being announced as the guest, he was described as a multi platinum artist- really? can you name any other big hit he's had and if so why didn't he sing one of them. Looks like Måns will be doing Heroes now for his whole life at National finals. Still good money if you can get it.
After a break, Dami Im came on to sing a song dedicated to her mother, Marching On. She is still as good as she was, last time we saw her at last years Australia Decides.
A montage video was shown of some of the acts who just missed out on making the Australia Decides show this year.
Finally, our Eurovision heroes, Dami and Måns joined together to perform a rendition of Walk With Me, with Dami taking Dotter's part. A good way to end the show before the voting started -or so we thought until Dami revealed she wants to come back to Eurovision and will be entering again next year.
The Hosts
Like last year, the show was hosted by Myf Warhurst and Joel Creasey. Both stars are good enough to host the contest should Australia win. Also the Gold Coast would be perfectly able to host the Eurovision Song Contest in the future. Watch for the EBU to change the rules if they win, and hold it in Australia. A flight down under can't be any more expensive than in Rotterdam this year. And hey at five in the morning everyone is usually up swinging it at the Euroclub anyway.
Myf lives in Melbourne and was born in 1974. She is currently the host of the weekly arts show, with a wonderful name, Bang On. Myf recently starred in I'm A Celebrity Get Me Out Of Here… as I have to host Australia Decides.
Joel also hails from Melbourne, so he too will be enjoying the week at the Gold Coast. He was born in 1990. As well as presenting, Joel is known as a stand up comedian and will have a Netfilx show broadcast later this year.
The duo entered the stage in bright yellow tracksuits, what a start – get them over here to Europe, they are wonderful.
The Songs
iOTA – Life
This MIKA/ Scissor Sisters sounding song opened the show, sung by this slightly zany character, all in blue. Probably a bad drawing as none of the other entries will be so colourful. This is an upbeat fun song just keeping on the right side of novelty. A catchy little song that would be a very noticeable entry in Rotterdam, but this bad running order has probably put paid to any ambitions here. Two 'musicians' descended from the roof, playing the trumpet and keyboards. The backing vocalists were in great form although some of iota's vocals were a little shaky.
Jordan-Ravi – Pushing Stars
This shuffling little song  and artist should be popular with a lot of teenage girls. This is a typical number in Justin Bieber or even One Direction's style which could potentially do well, but unfortunately it's not an immediate hit. You need to hear it a few times. Jordan is the youngest performer in the show and is from Sri Lanka. Jordan sang the song accompanied by his guitar. The background looked very similar to Miki from Spain's last year, although no-one seem to descend from the rooms in the house. Very colourful and this will surely open up his opportunities, but he is unlikely to be heading to Rotterdam this year.
Jaguar Jonze – Rabbit Hole
Next up was a bit of indie pop from Japanese born Jaguar. Grab a look at the song on video and you will see what the stage looked like as they have mimicked it pretty well. All in yellow, it turns out that Jaguar has actually out coloured iOTA after all. This is a real Siouxsie/ Lene Lovich influenced number. She wore a yellow pant suit and white tights and suspenders. Well received in the hall, this is quite out there for Eurovision.
Jack Vidgen – I Am King I Am Queen
This will be the next big competition for Jack, since he won Australia's Got Talent when was fourteen.This would be a very good entry for Australia to send. Well sung, all in black and a beautiful ballad at the same time. A male dancer and corresponding backing group were used in an attempt to elevate the song, but a gospel choir would have been better.
Vanessa Amorosi – Lessons of Love
Probably the best known name in the contest thanks to her Absolutely Everybody. This is not as instant as that hit, but once it gets going, it's certainly a good old anguished ballad. Despite being the biggest name though, the song doesn't shine head and shoulder above the other entries. Vanessa started the song on the floor,a supposed victim of an overturned car. The chorus is very powerful. Vanessa was in a bright red sparkly cat suit type of thing.
Diana Rouvas – Can We Make Heaven
Diana was all in green performing her song in a gigantic Dyson fan, while the background changed from orange to blue. There seemed to be a bit of a long time between this and Vanessa, but the stage built around her tells why that happened. This is a splendid bit of balladeering. The song starts of quietly but builds into a very hooky chorus. This also has to be one to watch. This is another song that makes good use of the backing singers.
Mitch Tambo – Together
If this wins this will be the first time the language of Gamilaraay would be represented in the contest. There is no reason to believe that this won't be the case, as this is a very good pop song with an excellent chorus. Mitch has only recently started to sing in English. Like Spirit in The Sky last year, the changes of languages are very smooth. Four dancers helped the show along as the stage was empty bar Mitch. Another one worth watching.
Casey Donovan – Proud
What is it with all these chest beating songs and feeling proud. This is a song meant for a Disney movie like Frozen, even with it's Cold doesn't bother me anyway type ending.  Casey looks at herself in the mirror so that she knows who she is Proud of.  Very  well sung, in fact maybe a little bit over sung, but so belonging in a musical from the past. Very good and very moving, but is it a Eurovision winner? Maybe
Montaigne – Don't Break Me
Now this is coming at a good moment in the running order. This is a very modern power ballad, with lots of strength. This is the type of song that Eurovision needs and well may get it. Montaigne, activist that she is, has dyed her hair blue and is dressed like a clown, no doubt for reasons she will later explain. However this artistic statement rather spoils the staging a little, but if she wins maybe SBS will tell her to get a grip. The song is excellent though.
Didirri – Raw Stuff
A slow piece at the piano ended the show toinight. Didirri certainly does have a feel of an early Elton John vibe going about him, but this is likely to get lost if it was sent to compete with forty other songs. On its own for a late night listen though its good enough
 The Results
Just as in the actual Eurovision's method,  the jury voted for their favourites during a preview show held the night before. Their votes and the public's votes were combined together to find the winning song. Måns Zelmerlöw was amongst the jurors.
Australia At The Eurovision Song Contest
So far Australia have done very well at Eurovision, since their debut at the 2015 contest in Vienna. Guy Sebastian ended up in 5th place with Tonight Again. The queen of Australia remains Dami Im, who came second the following year with Sound of Silence.
There were some worries in the Australian delegation in 2017 that Isaiah would not make the finals with Don't Come Easy. While these worries were unfounded as his name was announced, in the final the public only awarded the song two points. Jury votes ensured that the song ended up in 9th place by awarding it 173 points.
The following year, Jessica Mauboy met with the public's wrath again, scoring only nine points. The jury was unable to lift the singer's position this year, and We Found Love ended up outside the top 10 – in 20th position, a new low for Australia.
An unbleivebaly good bit of staging on a pole last year, saw Kate Miller-Heidke elevate Australia back to ninth place with Zero Gravity.