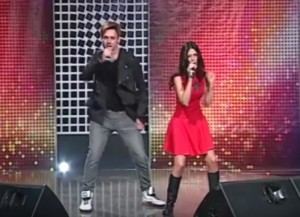 The public auditions of state broadcaster Teleradio-Moldova (TRM) have now taken place and 24 entries have been selected for the next, semi final stage of the country's 2016 Eurovision national selection. The semi finalists list is thus complete and the auditions of their entries available to watch.
As reported earlier, the Moldovan broadcaster received a mediocre (compared to previous years) 47 entries for its national selection. Their auditions were broadcast live on Teleradio-Moldova's official website trm.md and the list with the acts and songs selected to progress to the semi finals is as follows:
Act
Song Title

Andrei Ioniţa & Onoffrei

Che-MD

Nadia Moşneagu

Felicia Dunaf

Emilia Russu

Katherine and LITESOUND

Criss Jeff

Rodica şi Ivan Aculov

Big Flash Sound

Doiniţa Gherman

Valeria Paşa

Lidia Isac

Viola

Cristina Pintilie & Alex Calancea Band

Valentin Uzun

DoReDoS

Max Fall feat. Vozniuc Dan & Malloy

Maxim Zavidia

Diana Brescan

Chris Maroo

ELLE

PRIZA

Beatrice

Anna Gulko

Lie

Vodă E Cu Noi

Memories

You And Me

I Am Not The Same

Imagine

Good Life

Stop Lying

Când Vrei

Irrestistible


Save Love

Falling Stars

In The Name Of Love

Picture Of Love

Mine

Funny Folk

Game LOVER

La La Love

Till The End

Tonight

TARE

Rewind

Saved My Heart For You

Never Let Go

VIDEO
Twelve of the the acts will compete performing their entry during the first semi final on Tuesday 23rd February and the other twelve will follow during a second semi final on Thursday 25th February. Eight songs from each semi final will qualify to the Moldovan final, seven of which will be the result of a 50/50 combination of tele voting and jury vote and one of which will be defined by tele voting alone. The sixteen song semi final will take place on Saturday 27th February.
Moldova in the Eurovision Song Contest
Moldova has never missed a Eurovision Song Contest since its inaugural participation in 2005 though the country has failed to qualify to the Grand Final on three occasions: in 2008, 2014 and 2015. Moldova's debut entry, Zdob şi Zdub's Bunika Bate Doba (Grandmamma Beats the Drum), remains the country's best placing to date with the sixth place it achieved. This year, Moldova was represented by Ukrainian singer Eduard Romanyuta who narrowly missed qualifying for the 2015 Eurovision Grand Final with his song I Want Your Love.
In our video below, you can watch Aliona Moon performing her entry O Mie (A Thousand) for Moldova on the 2013 Eurovision stage of Sweden's Malmö Arena. The country has not qualified to a grand final since. Will this change in 2016?