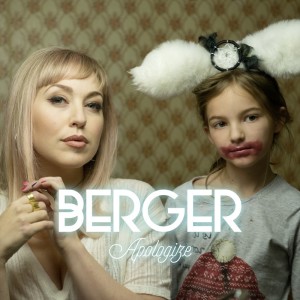 Margaret Berger is back with a new image, new Facebook page, new web site, new name and most important of all brand new music. The Norwegian 4th placer in Malmo 2013 has been quiet for a while but now she is ready to re-launch her career and she's taking no prisoners.The Norwegian ice princess has dropped her first name and will now be known simply as Berger. Margaret has had lots of problems with record releases and her record company, but she has now formed her own label, from where any future musical endeavours will be released.
The first of these made its debut on Norwegain radio last week and is already causing a major buzz. Miss Berger is pretty angry dropping the F bomb now and again on the Apologize single. The single is now available world wide.
Margaret says on her Facebook page:
I'm not gonna bore you with the story about why it has taken me over a year to release new music. Forward: I've got a brand new single coming out, worldwide. And on my own new label "Berger", which is also sort of my artist name now too, I'll be using both for a while. I'm so happy and proud to be going independent, after 12 years working in the industry it feels like the right move. The team I'm working with now is also just so kick-ass, and I feel heard and respected in every way, so things couldn't be better!

The song is very dear to my heart, and I think you will understand why when you hear it. The big question remains, will you feel, will you relate? It is my goal this time around, to not create a dreamworld in which you can escape, but to offer you a piece of my world, my truth and me basically.
Until the video fro Apologize is releases enjoy Margaret from the 2013 Eurovision Song Contest.