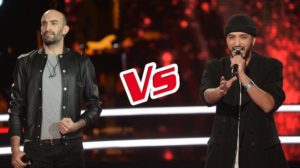 Francois Micheletto, lead singer of Minus One, the pop/rock Cypriot representatives in the upcoming Eurovision Song Contest, is also taking part in The Voice of France. Yesterday, TF1 broadcast the episode in which Francois competed in the second, battle phase of the popular talent show.
As we have already written, Bruno Berberes (former French Head of Delegation), who was a member of the jury in the Cypriot Eurovision Song Project last year, saw Francois, who was a contestant with Minus One and their song Shine, and invited him to take part in The Voice of France. With a dynamic performance of U2's song With Or Without You during the talent show's blind auditions, Francois managed to get Florent Pagny to turn his chair and get the singer on his team, thus qualifying to the next round of the show, the battles.
Yesterday TF1 broadcast the episode of Francois' battle. He sang the Queen song Show Must Go On with Slimane. His performance was amazing again. All coaches gave extremely positive comments about Francois' voice and stage performance. Unfortunately, due to Eurovision obligations, Francois couldn't continue in the competition as, during the next two months, Francois with Minus One have a lot of live appearances across Europe and wouldn't be able to attend the live episodes of The Voice in France. This was something of course that Francois knew from the very first moment he entered the game. However, the French public had the chance to see him, something that could be useful vote-wise at the Eurovision Song Contest as France will be voting in the first semi final where Cyprus is competing.
Those who live in France can watch yesterday's performance of Francois on the official site of TF1. As soon as the video is uploaded on YouTube, EuroVisionary will also add it here. Until then, you can just watch it in the video below.