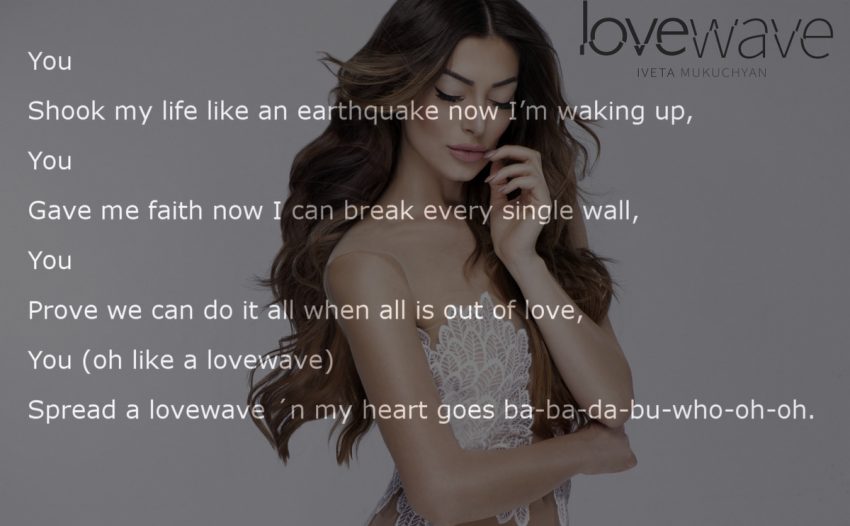 The Armenian representative Iveta Mukuchyan has just released a lyrics video for her 2016 Eurovision Song Contest entry LoveWave on her official youtube channel. As expected there is a deeper message behind the lyrics of the Armenian entry.
Iveta Mukuchyan presented her 2016 entry back on the 2nd of March. Now, the Armenian representative has further released an official lyrics clip on her youtube channel. According to the co-writer Stephanie Crutchfield, the term LoveWave alludes to the wave of an earthquake. It shows a certain power that is either conveyed by the powerful and modern character of the song.
The lyrics are trying to make people realize, that every single person and every single moment matters. Each moment can make a difference. Our strongest influence and weapon to make changes for the good is and always will be – love.

Stephanie Crutchfield
As seen, the Armenian song tries to demonstrate the power of love and makes an impression by connecting this message to the image of a powerful wave. Love has the ability to overcome differences and works as our most important influence. You can find the lyrics on Eurovision's official website.
Test your knowledge about Iveta in the quiz below:
Iveta Mukuchyan (Armenia 2016)
In which country did Iveta Mukuchyan grow up? Take this quiz to find out if you know that and other questions about her.
Armenia's 2016 entry which has been selected out of more than 300 songs was written by the Armenian composers Lilith Navasardyan and Levon Navasardyan, the mentioned lyrics by Iveta Mukuchyan herself respectively Stephanie Crutchfield.
Below you can watch Iveta's lyrics video: