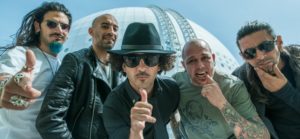 After the video of the Potato Song and a delay of one month, Minus One released a new music video of their cover version of Photograph by Ed Sheeran. Their video shows scenes of Minus One' s previous gigs, including some moments from Stockholm which we are sure will satisfy all their fans.
Minus One returns with a really beautiful video of their new track, which is a rendition of Photograph by Ed Sheeran. That video was originally intended to be published a month ago, but as they announced through their Official Facebook Page it was postponed due to music industry complications and a pending law suit against Mr Sheeran.
However it seems that all this delay was worth it, since today Minus One eventually released the video which you can enjoy below:
Ed Sheeran's Photograph was a worldwide chart success, with Top 10 positions in, among others, France, Dennmark, Germany and South Africa. It reached #1 in Slovakia and the United States.