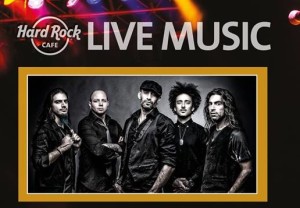 Minus One and the rest of the Cypriot delegation is heading to the Swedish capital Stockholm pretty soon. At a press conference they revealed more information about the stage performance, just as a special live gig has been announced for the evening of the second semi-final.

The Cypriot broadcaster CyBC held yesterday a press conference in their headquarters"Tassos Papadopoulos on the occasion of the departure of the Cyprus delegation for this year's 61st Eurovision Song Contest.
The Cypriot head of delegation Evi Papamichail thanked Minus One for accepting CyBC' s proposal and added that this year's Cypriot participation is a challenge for the broadcaster also for the band. The major complaint expressed by Minus One at the conference is that they failed to find even one sponsor to support their efforts, as CyBC couldn't afford anything so Minus One pay their own expenses.
The band announced that Sacha Jean-Baptiste took over the role of artistic director of this year's participation of Cyprus in Stockholm. The renowned artist will be responsible for the stage performance of Alter Ego in the first semi-final on 10 May in Stockholm and hopefully in the grand final on 14 May. It was also announced that for Minus One' s stage presentation will be used special effects for the television production.
Minus One hopes that with the help and guidance of Sacha Jean-Baptiste and a special stage presentation will stand out in this year's competition and Cyprus will have the best possible result. Sacha Jean-Baptiste has a lot of experience in the artistic direction of hits on TV, concerts and tours of Swedish artists like Darin and Loreen (winner of Eurovision Song Contest in 2012). The aim of their presentation in Globen Arena is each band member to have his own role.
Minus One announced one more live appearance, this time in Stockholm's Hard Rock Cafe on May 12th at 18.00 with a free entrance for all their fans that will be in Stockholm. The band will play their Eurovision entry Alter Ego along with other great songs.
A few weeks ago we caught up with Minus One for a game of Would You Rather in order to show a more personal side of the band. Please enjoy that in the video below.