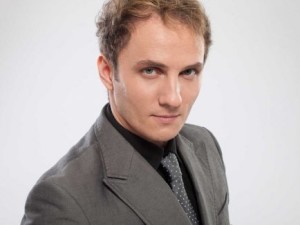 It's been 10 years since Mihai Trăistariu's participation at Eurovision Song Contest 2006 in Athens and now he's ready for a come back. Mihai has announced his intention to represent Romania in Sweden, after it came to him in a dream.
According to Mihai's post he had a dream that he competed in Stockholm and won the first place for his country Romania.
Maybe subconscious works but the desire to fulfill the dream is there, he said
That dream was the reason for him to make the decision and go for the chance to participate at the 2016 Eurovision Song Contest next May. Mihai had a successful participation back in 2006 with Tornero and even though he finished in the 4th place, his song has become a huge hit and it is still a fan favorite.
TVR the Romanian Broadcaster has already confirmed their participation in next year's contest. Romania will again go for a national final to select their next representative in Sweden. The details of their national selection, Selectia Nationala, haven't been revealed yet. In order for Mihai to make his dream true, he has to first win Selectia National to represent Romania at the 61st Eurovision Song Contest.
Romania in the Eurovision Song Contest
Romania has participated in the Eurovision Song Contest 17 times, debuting in the 1994 edition. With a total of five top 10 placements, their best results have been two third places, in 2005 with Luminita Anghel & Sistem performing Let Me Try, and in 2010 with Paula Seling & Ovi performin Playing With Fire.
Romania, with Greece and Russia, are along with the countries that are automatically in the final, the only countries that never have failed to miss the grand final since the introduction of the semi-finals in 2004.
This year the country was represented by Voltaj, a male group. Voltaj with their song De La Capat/ All Over Again, reached the 15th place in the Final with 35 points.
Below you can watch Mihai Traistariu performing his song, Tornero at the Eurovision Song Contest in Athens