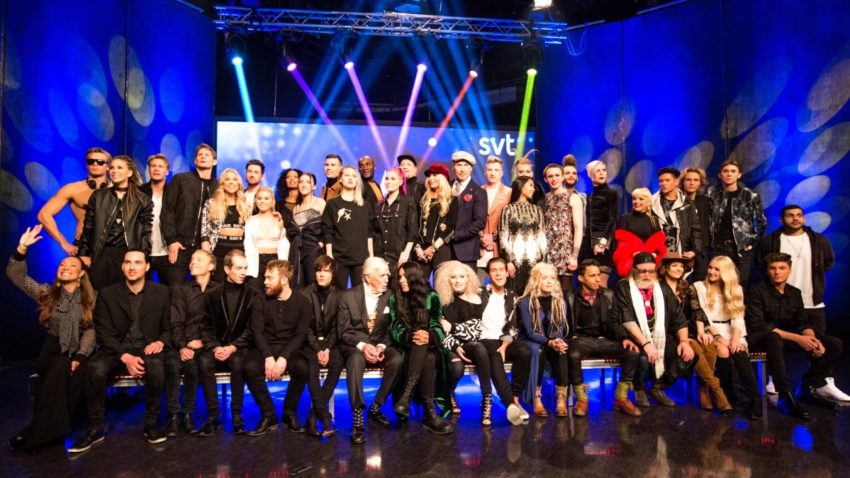 SVT presented an interesting starting field as the official announcement of the 28 participants in Melodifestivalen 2017 was made.
In the lineup we find Eurovision winners, previous winners of Melodifestivalen, top names from the latest editions of Melodifestivalen and a 87-year old Melodifestivalen newcomer.

The biggest name and perhaps the biggest surprise in the announcement is that the Eurovision winner from 2012 Loreen is back again in Melodifestivalen for a third time. The first was in 2011 where she was knocked out in the second chance heat by Sara Varga who also is returning now to the MF scene and is once again facing Loreen as they both are placed in heat 4. Loreen will not surpinsingly perform last of all the performers – placing the favourite in the last heat on the last position has been a common procedure during the years.
Another Eurovision winner who returns is Charlotte Perrelli who won in 1999 with Take Me To Your Heaven and who won Melodifestivalen 2008 with Hero. This will be the fourth solo apperance in Melodifestivalen.
A third previous winner of Melodifestivalen returning is Roger Pontare who we saw representing Sweden both in 1994 performing Stjärnorna together with Marie Bergman and in 2000 with When Spirits Are Calling My Name.
Several of the names that we saw in the top of the scoreboard in Melodifestivalen 2016 and 2015 are back: Ace Wilder (3rd in 2016), Wiktoria (4th in 2016), Robin Bengtsson (5th i 2016), Jon Henrik Fjällgren (2nd in 2015) and Mariette (3rd in 2015). Lisa Ajax, Boris René, Dina Nah and Sara Varga are also names returning to the MF scene. Krista Siegfrids who represented Finland at Eurovision 2013 with Marry Me and already tried Melodifestivalen in 2016 with the song Faller is also back.
And Owe Thörnqvist will at the age of 87 (turning 88 in February) be the oldest participant in the history of Melodifestivalen. Owe will make his debut in the competition as a singer but has experience from Melodifestivalen as he composed three songs that was in the competition for Melodifestivalen in the 60's.
Among this years songwriters we find big names like Thomas G:son and ex-The Ark singer Ola Salo.
A name that followers of Eurovision will notice among the songwriters this year is Tim Schou, lead singer from the group A Friend In London who represented Denmark in the Eurovision Song Contest 2011. He is one of the songwriters behind the song Kiss You Goodbye that will be performed by the 17-year old singer Anton Hagman.
Heat 1 – Gothenburg the 4th of February
Amare – Adrijana (Written by: Martin Tjärnberg, Adrijana Krasniqi)
Her Kiss – Boris René (Written by: Tim Larsson, Tobias Lundgren)
Hold On – Nano (Written by: Nano Omar, Gino Yonan, Ayak, Carl Rydén, Christoffer Belaieff, Rikard de Bruin, David Francis Jackson)
Mitt Liv – Charlotte Perrelli (Written by: (Charlotte Perrelli, Lars Hägglund)
One More Night – Dinah Nah (Written by: Thomas G:son, Jimmy Jansson, Dinah Nah, Dr. Alban)
Road Trip – De Vet Du (Written by: Johan Gunterberg, Christopher Martland)
Wild Child – Ace Wilder (Written by: Peter Boström, Thomas G:son, Ace Wilder)
Heat 2 – Malmö the 11th of February
A Million Years – Mariette (Written by: Thomas G:son, Johanna Jansson, Peter Boström, Mariette Hansson, Jenny Hansson)
Good Lovin' – Benjamin Ingrosso (Written by: Benjamin Ingrosso, Louis Schoorl, Matt Pardon)
Hearts Align – Dismissed (Written by: Ola Salo, Peter Kvint)
Himmel och hav – Roger Pontare (Written by: Thomas G:son, Alexzandra Wickman)
I Don't Give A – Lisa Ajax (Written by: Ola Svensson, Linnea Deb, Joy Deb, Anton Hård af Segerstad)
Up – Etzia (Written by: Johnny Sanchez, Hanif Sabzevari, Simon Gribbe, Erica Haylett)
Vart haru varit – Allyawan (Written by: Masse Salazar, Samuel Nazari)
Heat 3 – Växjö the 18th of February
Boogieman Blues – Owe Thörnqvist (Written by: Owe Thörnqvist)
Crucified – Bella & Filippa (Written by: Peter Hägerås, Mats Frisell, Jakob Stadell, Filippa Frisell, Isabella Snihs)
Gotta Thing – The Fooo Conspiracy (Written by: Robert John "Mutt" Lange, Tony Nilsson)
Gravity – Jasmine Kara (Written by: Anderz Wrethov, Jasmine Kara)
I Can't Go On – Robin Bengtsson (Written by: David Kreuger, Hamed "K-One" Pirouzpanah, Robin Stjernberg)
Kiss You Goodbye – Anton Hagman (Written by: Christian Fast, Tim Schou, Henrik Nordenback)
Snurra min jord – Krista Siegfrids (Written by: Krista Siegfrids, Gustaf Svenungsson, Magnus Wallin, Gabriel Alares)
Heat 4 – Skellefteå the 25th of February
As I Lay Me Down – Wiktoria (Written by: Justin Forrest, Jonas Wallin, Lauren Dyson)
Bound To Fall – Les Gordons (Written by: Jonatan Renström, Albert Björliden, Andreas Persson, Carl Ragnemyr, David Runebjörk, Jimmy Jansson)
Du får inte ändra på mig – Sara Varga och Juha Mulari (Written by: Sara Varga, Lars Hägglund)
En värld full av strider – Jon Henrik Fjällgren feat. Aninia (Written by: Jon Henrik Fjällgren, Sara Biglert, Christian Schneider, Andreas Hedlund)
När ingen ser – Axel Schylström (Written by: Behshad Ashnai, Axel Schylström, David Strääf)
Running with Lions – Alice (Written by: Anderz Wrethov, Andreas "Stone" Johansson, Denniz Jamm, Alice Svensson)
Statements – Loreen (Written by: Anton Hård af Segerstad, Joy Deb, Linnea Deb, Loreen)