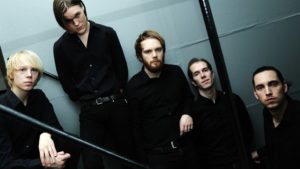 For the fifth year running the talent comeptition "Svensktoppen nästa" took place on Sunday in the city of Linköping. Out of the eight finalists the jury picked the group Les Gordons which means that they have gained a place in Melodifestivalen 2017.
25 competitors, each from different regions of Sweden, were narrowed down to eight by a jury. These eight finalists performed in a live broadcast on Swedish radio P4. The eight competitors are names unknown to the broader audience.
In the first round a split public SMS- and jury vote decided two finalists. The two finalists were Jimmy Ottosson with the song Rising Rivers and Noomi with Intoxicated.
In the second round the public choosed between the two finalists and in the end Noomi, stood as the winner. However, the jury group led by Christer Björkman, decided to give the opportunity to participate in next years Melodifestivalen to another of the eight finalists, the group Les Gordons from the city of Örebro. This means that the five man strong group becomes the first of 28 participants that will be chosen to take part in the swedish national final where Sweden will choose who will represent the country at the Eurovision Song Contest 2017 in Ukraine.
In the four past years the performer who came from Svensktoppen nästa failed to reach the top 4 in their respective Melodifestivalen heat and thereby missed the chance to advance to the Final. Terese Fredenwall and Smilo reached the best result by coming 5th in their heats in 2012 & 2016 where Smilo was narrowly beaten by SaRaha – 561 223 votes against 572 634. Below you can see Smilo's performance.
In the jury: Kerstin Behrendtz (Sveriges Radio), Rita Jernquist (Sveriges Radio), Carolina Norén (Sveriges Radio), Christer Björkman (SVT) and Maths Broborg (Sveriges Radio and president of the jury).