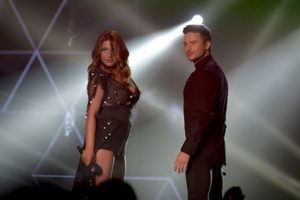 MAD TV's video music awards are arguably the most prestigious event of the Greek pop scene. With winners and performers including this year's Sergey Lazarev and Poli Genova as well as Sakis Rouvas, Helena Paparizou and Anna Vissi, the awards were once more a hot ticket for Eurovision fans.
Now in their 13th edition, the MAD VMAs are always highly anticipated. The slogan was My Music… My Story and this Tuesday's event was indeed a story including exciting appearances from two of this year's Eurovision Song Contest participants in Stockholm. One of them was Russia's Sergey Lazarev (3rd place) in a joint performance with Eurovision 2005 winner Helena Paparizou; the other was Bulgaria's Poli Genova (4th place), who performed a surprise reworked version of her entry If Love Was A Crime as a duet with Demy, the young female pop singer who is currently in discussions in regards to representing Greece in Eurovision 2017.
The MAD VMAs have a tradition for making references to Eurovision. Other Eurovision stars present included pop royalty Anna Vissi (Greece 1980 & 2006, Cyprus 1982) as well as former Greek national final participants Christos Dantis, pop/rock group Melisses and Eleni Foureira, who had performed her (Greek) version of Israel 2015 entry Golden Boy during last year's ceremony.
It is worth mentioning that former Greek Eurovision entrants have dominated the awards since these started back in 2004. Helena Paparizou is by far the forerunner when it comes to having received both the most awards as well as the most nominations while Sakis Rouvas (Greece 2004 & 2009) is the most successful male act in the history of the event.
This year, awards won by artists linked to Eurovision included the following:
Best Pop Video: Sakis Rouvas – Fila Me (Kiss Me), watch the song's video
MAD Cyprus Best Act Award: Demy
Best Male (Contemporary Pop): Sakis Rouvas
Best Urban Video: Demy – I Alitheia Moiazei Psemma (The Truth Resembles A Lie), watch the song's video
Best Group: Melisses
Lifetime Achievement Award: Anna Vissi
Best Female (Contemporary Pop): Helena Paparizou
It was only people present in the venue, Athens' Tae Kwon Do Stadium, who had the chance to see the event live. Television audiences will have to wait until July to get a glimpse, when the awards will be broadcast on commercial channel Alpha TV.
In the following video, you can watch Eleni Foureira performing live Sto Theo Me Paei (It Gets Me Closer To God), her reworking of Nadav Guedj's Golden Boy, during last year's ceremony. The official video of Sto Theo Me Paei missed out to Sakis Rouvas' Fila Me in the Best Pop Video category.