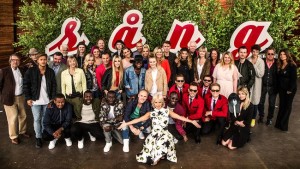 Eurovision winners Måns Zelmerlöw, Charlotte Perrelli and Carola are some of the big names when SVT announced the guests in the popular Swedish tv-show Allsång på Skansen which kicks off on the 23rd of June and then runs every Tuesday evening until the 11th August. Other well known names include Lena Philipsson, Nanna Grönvall, Alcazar, Danny Saucedo, Magnus Carlsson & Darin.
Here is the full lineup for this summer with former Melodifestivalen entrants in bold:
Program 1 – The 23rd of June:
Carola, Hasse Anderson & Panteoz
Program 2 – The 30th of June:
Norlie & KKV, Måns Zelmerlöw, Sabina Ddumba, Tomas Ledina
Program 3 – The 7th of July:
Bo Kaspers Orkester, Danny Saucedo, Isa, Jill Johnson & Doug Seegers, Magnus Carlsson
Program 4 – The 14th of July:
Darin, Jakob Karlberg, Titti Sjöblom, Zara Larsson, Brolle & Nanne Grönvall
Program 5 – The 21st of July:
Dinah Nah, Ida LaFontaine, Kjell Lönnå & Sundsvalls Kammarkör, Lasse Stefanz & Mikael Wiehe, Ulrik Munther
Program 6 – The 28th of July:
Alcazar, Gunilla Backman, Jessica Andersson & Charlotte Perrelli, Svante Thuresson & Pernilla Andersson, Viktor Andersson
Program 7 – The 4th of August:
CajsaStina Åkerström, Christina Nilsson, Bruno Mitsogiannis, Peter Johansson, David Lindgren, Robert Rydberg, Petter, Say Lou Lou
Program 8 – The 11th of August:
Sveriges Radios Symfoniorkester, Lena Philipsson, Tommy Körberg, Rigmor Gustafsson & Viktoria Tolstoy, Robert Noack & Maria Ylipää
Måns Zelmerlöw (Sweden 2015)
Måns Zelmerlöw will represent Sweden at the 2015 Eurovision Song Contest. How well do you know him? Take this short quiz to find out!