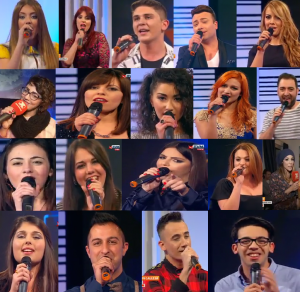 Malta held their semi final show tonight to whittle 20 songs down to 14 which will appear in the Grand Final tomorrow night. This will make Malta the fifth country to select their entry for the 2016 Eurovision Song Contest, but before that, six acts were unlucky enough to be eliminated just before that last hurdle.
Twenty songs, nineteen artists competed tonight in the semi final to decide who will be lucky enough to compete in the final tomorrow night to represent Malta in the Eurovision Song Contest to be held in Stockholm in 2016.
The songs
Ira Losco – Chameleon (Invincible)
A powerhouse of an opening. Do the newcomers really have a chance after this? The song takes a while to get going, sort of changes like its title, but Ira delivered it well in a pant suit with a hood.
Corazón – Falling Glass .
Nice little piano backing this dance song. This had elements of Tanja's Amazing (Estonia 2014) in it. It builds up nicely.
Stefan Galea – Light Up My Life
First male singer of the night, who shouted out his pop dance number. Two female backing singers and two female dancers stomped around on the stage behind Stefan.
Domenique – Empty Hearted
Another singer who clearly loves the song she is singing. Another pleasant power ballad. Dressed in a crimson outfit the vocals were pretty strong here, obviously Domenique is an Amber fan.
Dario – Love You
This was a dancier number with two backing vocalists and a dancer. Starts off with just the piano but its off and running in no time. Vocals were good enough.
Daniel Testa – Under The Sun
Another audience favourite, this was a more beaty pop song with a dance feel from the young singer.
Jessika – The Flame
A song title to match her orange hair.  Another pop ballad with a verse then more rousing chorus.
Jasmine Abela – Alive
Looks like Celine Carzo from Luxembourg 1990, more electronic backing but Jasmine certainly knows how to sing. Another song about not giving up cause you're a fighter in a nod to lasts years entry.
Raquel – Flashing Lights
Raquel sang the slowest song of the evening so far with a hint of the Sinead O'Connor in a black dress. Again hints of Warrior and the audience seems to love it.
Brooke – Golden
Another powerhouse performance, Brooke clearly believed in what she was singing, she means business in her black and gold dress. A very strong performance – Ira should be worried though the song needs a little work, but a fine pop song is in there.
Kim – Lighthouse
Another sweet little ballad, very much like some of the Irish songs from the nineties like Kim Jackson and Dawn Martin.  This started out in black and white with Kim and her guitar and then turned into colour to reveal her blue dress. Good audience reaction to this one.
Sarah Crystal – Right Here With You
This is a dance song, another one with the audience clapping along. Sarah had a male and female dancer behind her and seems that the guy left his partner in preference for Sarah. Trouble back stage maybe.
 Danica – Frontline
The closest vocal wise to Amber from last year and Danica is sporting the same hair do. The song is a little slower supported by a Dire Straits  like guitar backing. Pleasant.
Christabelle Borg – Kingdom
Another Amber type song which bursts into a stronger chorus. Audience reaction to this song was the loudest and this spurred Christabelle along. All dressed in black with four dancers like Lena's Taken By A Stranger, all mirrors and spectacle.
Franklin Calleja – Little Love
Franklin has a tiny little voice lost in the big hall but teeth as white as snow. The slow pop song has certain charm and had a Force MC's/Kenny Thomas Tender Love feel – or a bit like that Postman Song from years back. Huge cheer.
Dominic – Fire Burn
A little bit of a bouncier pop dance song in the Cascada/Tanja vein, another pretty good vocalist and audience were clapping along, with his four dancers behind him.
Ira Losco – That's Why I Love You
Song 2 from Ira and really it's no better or worse than any of the other female songs in the final. A red dress was the costume of choice this time. Power ballad with a drum and guitar backing. Quite professional.
Laurence Gray – You're Beautiful
Lawrence's anguished ballad started off a little off-key and was sung with a few shrieks and little fanfare except two female violinists and two female cellists playing in the background.
Maxine – Young Love
This sixties throwback had the audience in rapture. Maxine seemed to be enjoying herself with the bobbity bob little song which will sound good on all these teenage girls ipods cause its all about the bass, in all the right places.
Deborah C – All Around The World
Red head Deborah tried her best with another dancey number, getting a good draw coming last. Sort of an Alexandra Stan flavour with a hands in the air chorus.
The show
Ben Camille hosted the show live from Valetta's Mediterranean Conference Centre. Ben Camille is a big attraction as a model and actor in Malta. He is booked through a modelling agency owned by his mother, Carina. He is also developing his own hotel in Valletta and is the spokesperson for an anti bullying campaign in Malta.
The show opened with a video montage of last year and before you could say I'm A Warrior, there she was, the lovely Amber, with a new hair-do reprising her Eurovision Song from last year. Inspiring!
Ben then came on ready to introduce this years warriors and after a bit of a blab, and introducing an international panel of 6 judges, the show got started. The first four songs were introduced and the fun began. Ben appeared after every four songs to introduce the next set of performers. A short, very professionally made video introduced each artist.
A reprise was held after all the songs had been heard to help the televoters choose their favourite. There then followed a whole bunch of sponsors adverts , which had been appearing all night and then a further reprise of the songs was played. A Maltese countdown closed the voting.
Local pop rock-indie band The Crowns then performed their song Memories Of You. Ben then headed to the green room to chat with Laurence Gray, Raquel, Maxine who revealed she is 16 years old. Then he spoke to Kim, Ira, Franklin, and Domenique before introducing the Crowns again to sing Mary Jane.
After the commercial break The New Victorians (a girl band) took the stage and performed their song Seeker Seeker, a warm applause for their performance from the hall.
Inside the green room again for the last moments and we have the announcement of the 14 finalists. The semi-final ended with all the qualifiers on stage celebrating their success.
The results
Fourteen acts were randomly announced to proceed to the finals tomorrow. They were:
Dominic – Fire Burn
Deborah C – All Around the World
Laurence Gray – You're Beautiful
Maxine – Young Love
Malta in the Eurovision Song Contest
Malta have competed in the Eurovision Song Contest, twenty eight times. In 1971 and 1972 Malta placed last and after Renato placed 12th in 1975 with Singing This Song, they were absent until 1991.
They made a spectacular comeback with Paul Giordimaina and Georgina with Could It Be which placed 6th and then Mary Spiteri did even better in 1992, placing 3rd with Little Child. For the first 12 years Malta placed in the top 10 and it seemed like  that it was only a matter of time before they win. Ira Losco lost out thanks to the final jury in 2002 with 7th Wonder , while Chiara had the same fate in 1998 with The One That I Love. She also placed 2nd in 2005 with Angel.
Malta's fortunes has taken a downturn since then, with only one top ten place since then with Gianluca Bezzina and Tomorrow in 2013.
Last year Amber became the 5th Maltese entry to miss the Grand Final.
Until we know their 2016 representative, you can enjoy our video with highlights of the Maltese participation in the Eurovision Song Contest 2011 to 2015. The video includes clips from rehearsals, press conferences, parties and interviews so you'll likely see something you haven't seen before.