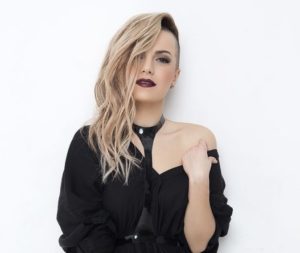 The Bulgarian representative Poli Genova has just released her song for the 2016 Eurovision Song Contest. The entry If Love Was A Crime is going to compete on the 12th of May in the second semi-final of the competition in Stockholm.
After a two-year break, Bulgaria confirmed its participation at the 2016 Eurovision Song Contest in November and further announced Poli Genova as the representative for Stockholm back in February. Today, the Bulgarian broadcaster BNT released Poli's entry If Love Was A Crime.
The 29-year old singer from Sofia also competed for her country in 2011 when the contest was held in Düsseldorf, Germany. Back then, the Bulgarian artist could not make it through to the grand final with her song Na Inat, which finally came twelfth in the semi-final of the competition.
Apart from her appearance in 2011, Poli Genova hosted the Junior Eurovision Song Contest 2015 in the Bulgarian capital Sofia.
The Bulgarian broadcaster BNT decided its representative and the song internally due to financial problems. Apart from Poli Genova herself, an international team consisting of the songwriters Borislav Milanov, Sebastian Armann and Joachim Bo Persson worked on the 2016 entry, which you can hear in the video below:
Bulgaria at the Eurovision Song Contest
Bulgaria debuted in 2005 with Kaffe's song Lorraine in Kiev. The jazz and pop band finished nineteenth out of twenty-five acts in their semi-final and therefore missed the grand final.
The country from Southeast Europe only once made it through to the Eurovision final back in 2007 when Eliza Todorova & Stojan Jankulov performed their song Water in Helsinki, Finland, and, surprisingly, finished fifth.
Since this big success, Bulgaria failed to qualify for the final in six attempts and didn't participate in the last two editions of the contest as a consequence of these results.
In our video below, you can check the Bulgarian Eurovision highlights of the past participating years. It sums up the recent Eurovision history of the country between 2010 and 2013 and further makes it clear why many Eurovision fans wished to see this comeback in the contest: