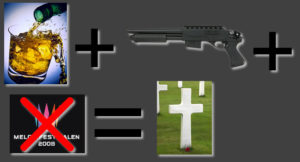 A 35-year-old man from Sweden was yesterday on charge for having killed his five years younger girlfriend. They apparently ended up in an argument after she blamed him that she had missed this year's first Swedish semi-final.
Saturday the 9th of February the couple had been to dinner at her parents where he had three glasses of wine, but instead of driving home to watch the Swedish semi-final he insisted on visiting a friend first where he drank a bottle of whiskey. On the way home she blamed him for having missed the Swedish semi-final. She was angry and once they got home her complaints became too much for him and he shot her with his shotgun on a meters distance.
Afterwards he explained that they have had problems before due to his drinking, but that night he had only been drinking one bottle of whiskey whereas he normally drinks two bottles of whiskey every weekend.