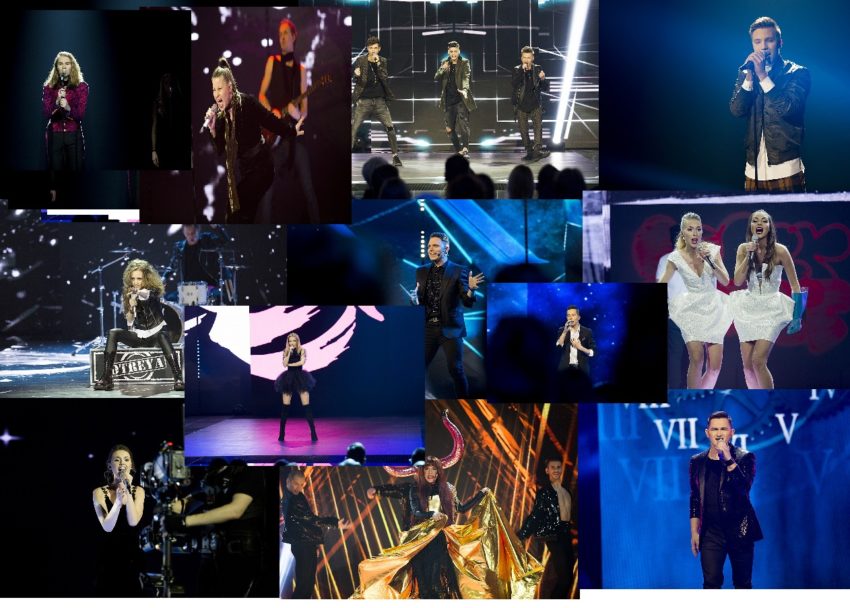 After hearing forty nine songs, the second heats of Lithuania's Eurovision 2017 search began this week. As eight acts qualify to the next round, it is equally nail biting for the songwriters. This week as well as the results, we bring you exclusive comments from the song writers about their songs.
This week EuroVisionary reached out to the songwriters and artists to tell us what their songs mean to them. We hope it helps you identify more with their entries. We thank all the songwriters and artists who took time from their busy schedules to tell us about their songs.
The Songs
E.G.O – My Story  (Karolis Šliažas, Vaida Kalkauskaitė)
E.G.O. have been very unlucky in having to open their heats on both occasions. What makes it harder is that the judges say they will be happy to send E.G.O to Eurovision and then they only give the band two points. The harmonies were praised, but felt something was lacking emotionally in the performance. The boys seemed very nervous tonight.
The band were a four piece last year, but member Polvilas Zilionis is no longer with them. The group have been very responsive to questions in the past, but have gone a little quiet lately. Lets hope the International jury and public lift their spirits. The song is a very catchy number about taking a new direction.
Writer, Karolis also sings with the band, so the meaning of his personal story can be heard in the song. Along with Vaida Kalkauskaitė, he also wrote girl group HIT's entry, I Wanna Love You Tonight, which was eliminated in week three.
Benas Malakauskas – Rolling (Jonas Talandis, Kristupas Bubnelis)
Writer, Kristupas Bubnelis is from Lithuania and is currently living in London, studying at the Royal Academy Of Music. He composed the song with Jonas Talandis. He told EuroVisionary "It is a great pleasure to hear Benas singing his composition. Kristupas continued that Rolling is an up-tempo song about constantly searching and having an adventurous personality for whom various discoveries means everlasting renewal. It is an optimistic piece of music".
Benas looked really smart performing the song tonight with brown checked trousers, a white shirt and black leather jacket. The judges thought that maybe Benas should have been in Junior Eurovision this year, but offered that he had great potential. They compared him to Frans from Sweden as the words appeared on the video wall behind him.
Otreya – Last Two Weeks (Ugnė Kudlaitė)
Young Ugnė composed her entry by herself. She wrote the song, five years ago while still in high school, so the song reminds her of her teenage years. Ugnė explained to us the story behind the lyrics. "The song is about a teenage love and break up, when one person messes up everything, and then the relationship cannot be fixed anymore, no matter how hard you want that, and how hard you'd try to". Ugnė hopes that a lot of people can relate to the song, explaining that most people have had that situation at least once in their life.
The judges were not too kind to Ugnė in the scoring department this week, which disappointed her, as her group put 110% effort into tonight's performance. However she hopes that the audience at home felt the sincerity in the performance. Ugnė also said that if she hears from people, telling her that her music inspires them, it encourages and motivates her to continue.
Edgaras Lubys – Could It Be? (Edgaras Lubys)
Mr Lubys has been very quiet since he won the first heat of the competition. Many attempts to get a comment from him have not been answered. So therefore we turn to the judges who enjoyed the added choreography to the song. This was a real change from when Edgaras only stood at the microphone last time. The cost of the special effects were mentioned by the judges.
The song is a very original piece, which actually sounds better live, than the recorded version. If anyone knows where Edgaras is hiding, tell him to get in touch. The judges called the song weird so we'd love to know the meaning behind Could It Be?
Milda Martinkėnaitė & Saulenė Chlevickaitė – Paperheart (Alan Roy Scott, Dillon Dixon, Jonas Brogger Filtenborg)
Alan grew up in Chicago and is a seasoned song writer now living in Los Angeles.  He has worked for Motown and EMI Records. The genesis of this song came about when Alan was attending a music camp. He was teamed up with Jonas, a friend of three months at the time, who is a Danish songwriter. Completing the trio, was fellow American Dillon Dixon. The guys wrote the song in 2015. Milda, who wanted to participate in Eurovision again, found the song, on a trip to America and decided this would be it.
Saulenė was introduced to Milda, and the ladies decided to enter as a duo. Alan says that the idea for the song was that a heart is so fragile. So fragile it is like paper. The song received the lowest amount of points from the jury, and Alan expressed justifiably that the work put into creating a song, can be very disheartening when it is demoted to last place. Nonetheless, Alan as a professional song writer will continue writing more songs, and the ladies will keep on singing Paperheart.
The duo were dressed all in white again, voices work very well together in harmony. A graffiti artist drew on the wall behind them. The dresses still seemed to be a little unusual but hey, that's art for you. The girls added to the costumes by sharing a pair of blue rubber gloves.
Ieva Zasimauskaitė – You Saved Me (Ąžuolas Paulauskas)
If you could bottle Ieva's voice and put in a liquid candle, you would stay warm all year. Richard Carpenter often said that he could never find a voice to match his sister Karen. If he is still looking, Lithuania has been hiding what he is looking for. You Saved Me is a really difficult song to sing. There are a lot of long notes in the short lines and the range of the notes in the song is very wide. Our Lithuanian judges recognise that and gave Ieva the top marks.
This week Ieva kicked it up a notch in a long black dress. Looking as elegant as the song, she captivated the judges. However the song has been totally revamped from its original, almost to a new song. When the background singers join in, it is perfection.
The song is very personal to Ieva. She explained to EuroVisionary the meaning behind the song, and as it is such a personal story, Ieva's words are exactly quoted, "3 years ago I was totally lost in myself. I was depressed and really didn't know what to do with my life.. Until I find out that there is a path which can change my life. So step by step I was following… I was asking so many questions and I find all answers in this path.. there is one "soul" because I cannot say that this is just ordinary man.. he was very old but took a big challenge and one time he came to America and told hippies how to be happy and how to be faithful . For me how not to give up when everything looks so miserable, how to trust God… Today I really feel that he saved my life and I know that everyone of us can save someone.. and show how the world can be full of joy and happiness.. We just have to be faithful and patient… there are so many people who need our help and our shelter. I took shelter, and with this song I want to say that everyone of us can be saved."
Gytis Ivanauskas –  Get Frighten  (Marius Narbutis, Andrius Kauklys)
This song starts out real slow like an orchestral piece. Before long the thumping synthesizer, very like Dead Or Alive's You Spin Me Round or Donna Summer's I Feel Love kicks in. From then on it's two minutes of audio and visual bliss. Gytis Ivanauskas plays the Lolita Zero and hams it up with high vocals and low narrative.
Co-writer Andrius Kaulys is a very busy man, working late night hours producing in the studio. He took time out to tell us about this song.
Andrius says surprisingly at first that. "This song is about heartbreak". However he continued  "It represents feelings that are so powerful, yet felt individually, but so common to all of us. With this song we want to encourage sincerity and compassion to everybody – no double-standardisation".
Lolita had the backing dancers again and kept the rubber bull horns and gold cape. Three watermelons took a bashing at the end of the song.
Valdas Lacko – It's So Unfair (Paulius Jasiūnas, Monika Rotomskytė)
Valdas did very well tonight in his performance. Valdas comes from the old school type of singers like Engelbert Humperdinck, Tony Christie or Tom Jones, where the song is more important than the visuals. As in the first round, Valdas had a clock in the background, which fit very well into the song's meaning. The chorus is another good one to sing along to.
Valdas is a very modest guy and admitted that he would need some luck tonight against the formidable competition. He explained that "It's So Unfair is about real values, and because of daily routine, jobs and goals, we forget about the values. We forget to be sincere, honest and forgiving. Valdas hopes that with his song, he gets the message over that It's So Unfair to forget human values. When we were kids we were truly honest and faithful loving."
Paula – Let U Go (Gytis Valickas and Paula Valentaitė)
If any song is made for the current music scene, this is the one. Teenage twitter users are saying how much they love this one, and it's easy to see why. Paula at sixteen already has a fabulous stage presence. She is so confident on stage. The catchy dance number should soar up dance charts all over the world. The problem is that the judges aren't teenagers and they may be missing something. So let's just say, we have no songs like this going to Kyiv yet.
Paula co-wrote the song with Gytis Valickas, also know as Echoes. He told us that he is so proud of Paula and her performance. Gytis is a record producer at Echoes studio. Gytis told us that Paula has been practicing a lot between the first performance. There is high hopes that this song will make it into the final. The public have it as their favourite.
Two dancers joined Paula this week to spice up the visuals.
Gražvydas – Paint the Sky Blue (Peter Karlsson)
Peter Karlsson is a Swedish song writer. He is a man of few words, instead preferring the lyrics of his songs to do the talking. Of, Paint The Sky Blue, he told us of the song's meaning. He said, "For me the song is about giving consolation in hard times".
Gražvydas tried his best to convey Peter's message but the grouchy judges didn't seem to be impressed. They described the song as a little banal, yet placed the song mid table, allowing the public and international jury to decide the song's fate. It would maybe have helped if the backing singers joined him on the stage, to make more of an impact. Gražvydas sang the song well, and many coloured lights swirled behind him.
Fusedmarc – Rain of Revolution (Viktorija Ivanovskaja, Denis Zujev, Michail Levin)
Lead singer and writer Viktorija has said that the performance has a lot of surprises and provocation. The stage lighting for this song is incredible. It makes the stage look huge, as she sings, the groups electronic song. Deep down the judges kind of want to send this song to Kyiv, but can't really see themselves doing so.
This week all the band appeared on stage and it gave the song some needed power. The judges suggested Viktorija needed a little vocal coaching – not much, but just enough to be more powerful.
Gabrielius Vagelis – Feel Myself Free (Gabrielius Vagelis)
The final song of the evening was Gabrielius and his slow paced self composed ballad. This is a good song to listen to in a quiet dark room. However the pace never really picks up until the backing singers weigh in, towards the end. While not talking directly to us, Gabrielius has mentioned on several occasions, that the song is about feeling trapped with the daily routine and wanting to disappear. Ironically though it was inspired by Gabrielius actually returning home, to be happy, after taking a year out.
The Show
Our hosts, Gabrielė Martirosianaitė and Ieva Stasiulevičiūtė   tonight went back to black with the costume choices, and as usual introduced the judges. Tonights judges were musicologists Ramunas Zilnys and Darius Uzkuraitis, opera soloist, Nomeda Kozlaus and the Lithuanian State Symphony Orchestra Chief Conductor,Gintaras Rinkevičius.
All the acts really stepped up their game tonight, such a shame that not everyone can qualify. A video was shown, portraying the rehearsals. There were also flashbacks to last years red carpet even in Stockholm. Also. as usual each act was interviewed after their performance. Valdas treated the audience to the Lithuanian version of his song.
The Results
| | | | | | |
| --- | --- | --- | --- | --- | --- |
| | Lithuanian Jury | Public | Grand Total | Place | |
| E.G.O | 2 |  3 |  5 | 8  | |
| Benas Malakauskas | 4 | 0 |  4 |   | OUT  |
| Orteya | 2 | 1 | 3 | | OUT |
| Edgaras Lubys | 8 |  4 |  12 |  6 |   |
| Milda Martinkėnaitė & Saulenė Chlevickaitė | 1 |  2 |  3 |   | OUT  |
| Ieva Zasimauskaitė | 12 |  6 |  18 |  2 |   |
| Gytis Ivanauskas | 7 |  12 |  19 |  1 |   |
| Valdas Lacko | 2 |  1 |  3 |   |  OUT |
| Paula | 7 |  10 |  17 | 3 |   |
| Gražvydas | 5 |  8 |  13 |  5 | |
| Fusedmarc | 10 |  7 |  17 |  4 | |
| Gabrielius Vagelis | 6 |  5 |  11 | 7 | |
Lithuania At The Eurovision Song Contest
In our fifth week of Lithiuania's Eurovision history, we finally arrive at 2006, the year the country scored its best position. We Are The Winners, was internationally panned when it was chosen, and much booing can be heard from the audience in the semi final and final. The six member, LT United group was made up of Andrius Mamontovas, Marijonas Mikutavičius, Viktoras Diawara, Saulius Urbonavičius, Arnoldas Lukošius and Eimantas Belickas –  all individual stars at home. The Irish, or the Lithuanians living in Ireland, deemed the song, so good and gave it twelve points. Latvia, Poland and The United Kingdom awarded it ten. The final score was 163 points and a sixth place.
The following year, in 2007, the group 4Fun gave the impression that novelty was coming again, but this song couldn't have been any different from the previous year. Love or Leave was a slow dreary number which really didn't connect with the viewers. The song was composed by the lead singer Julija Ritčik, who strummed her guitar , while three men in silhouette played behind her. The song ended up with 28 points, six from Andorra, Belarus and United Kindgom combined. The remaining 22 points, well shocker, came from Ireland (12) and Latvia (10). Thanks to 4Fun, Lithuania were back into the semi finals the following year.
To complete your Lithuanian week. please enjoy the music video of tonight's opening number, My Story by E.G.O.