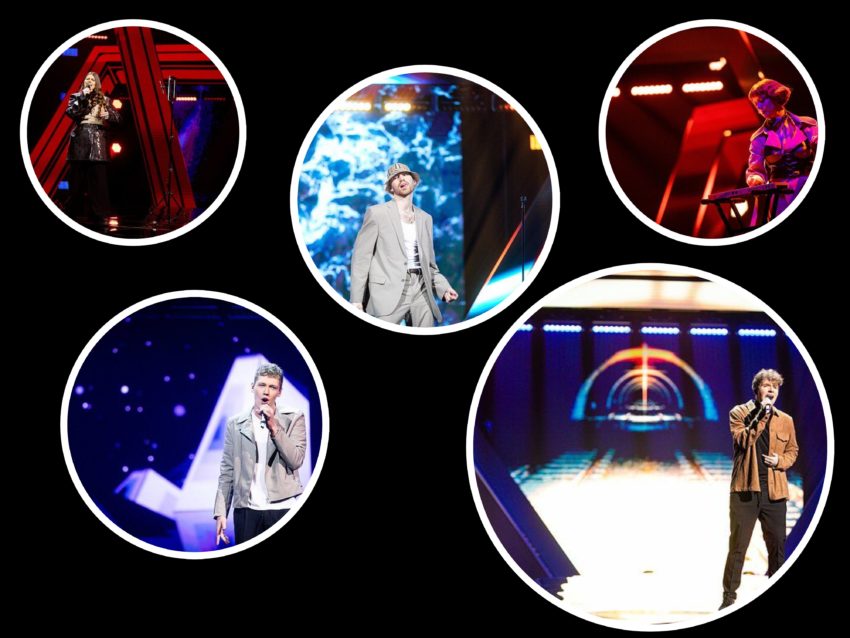 Tonight the second and final heat of Pabandom iš Naujo! was broadcast on Lithuanian Television (LRT) with five acts joining last week's five best contestants, in the semi final.
The semi final will be broadcast on 30 January 2021, with the final taking place, the following week on 6 February 2021.
The winner will represent Lithuania at the Eurovision Song Contest 2021, planned to take place in May, in Rotterdam, The Netherlands.
The Show
As  per last week the show was hosted by Ieva Stasiulevičiūtė and Vytautas Rumšas Jr, with Vaidas Baumila, again in charge of the Green Room, and getting the judges opinions. Ieva was dressed in quite the space age lime green outfit. At the beginning of the show they let us know that The Roop would be coming up later. Before that, though ten nervous artists had to perform their songs for our evaluation.
The judges again had their protective visors on keeping themselves a good 2m apart, and by the wrinkles forming on the chairs, you can see they're getting a good cleansing. Actually kidding aside, they've done a pretty good job to make sure everyone stays safe.
The lack of atmosphere is noticeable this year, but hats off to LRT for making their best effort. Finally, just before the voting started, The Roop came on to perform their song for 2021, Discoteque.  It's hard to see anyone who will beat them this year as Lithuania's entry, but we shall wait and see.
The Songs
UnoBand – Eisiu
This was a pounding foot stomping number to open tonight's show. Lithuania has had much worse than this in the past – in fact this was quite anthem like. The vocals weren't exactly pounding out, but had a certain Bryan Adams gargling with razor blades feel. Good enough as a show opener. Our judges felt it was a bit Coldplay influenced.
Cosmic Bride – Solitary Star
Sometimes you have to wonder if some of these Lithuanian acts have ever seen a Eurovision Song Contest before, and if they know the goal is usually to try to aim to win it. No excuse for Cosmic, as she lives in Rotterdam so you'd think she'd have had some idea, But no, this self-indulgent jazz number, can only be expected to say goodnight tonight.
Rapolas – Degam
More jazz here too although it was slightly more palatable, but again far from being a Eurovision winner. Rapolas has a nice smooth voice. For added effect he was joined by a simpering woman of a dancer who shimmied round him. Our favourite LRT backing singers were in fine form here.
Sunday Afternoon – Open
Next up was Sunday Afternoon, or if you were paying attention in 2014, Vilija Matačiūnaitė, the Lithuanian representative back then. Some would be forgiven for thinking that Vilija has lost the plot since then. Tonight's weirdness had a man prancing around and climbing on top of her, indeed a Eurovision first. As to the song though, Vilija is quite a good little singer and the song does have a certain Sunday Afternoon feel to it. It could survive to the semi finals.
Aistė Brokenleg – Home
OK by now I think that LRT has told all the acts that The Roop are going to Rotterdam so do whatever you like. In a raincoat, Aistė warbled along to a random piece of music, sort of like filler music that a musician would do when people were coming into a hall for a performance. Aistė got out her keyboard and then you realise the raincoats on, so she can hop off home quickly when she doesn't get through to the semis.
Norbertas – Man In Need
This was a little better. In fact you could see this one getting played on the radio. The song was a mid paced pop like number and Norbertas does have a pretty powerful voice. Not remarkable, but a good attempt, in a tan leather jacket, no less.
Gabrielė Goštautaitė – Freedom
The second half of the show has certainly seen a remarkable improvement. This is another reasonably paced song, and Gabrielė is trying her best. As the song progresses, it seems to sound a little like Nobertas's song that was on before. Now, then it may be a little more difficult to choose the five songs going to the final.
Gebrasy – Where'd You Wanna Go
If Lithuania wanted to put the cat among the pigeons, they could pick this as their Eurovision entry instead of The Roop. That would guarantee them getting lots of fans agreeing and disagreeing right up to Eurovision day. This is a slow paced number, but its very enjoyable and melodic and would in general have been a good choice to send. Probably this is the wrong year.
Evita Cololo – Be paslapčių
This is the third song of the evening sung in Lithuanian, but unfortunately it is the least pleasing of the three. Evita has a nice sultry voice, that's for sure, but for all you youngsters out there, this would struggle to get on a B-side of a record. Not to worry, Evita has plenty time to come back with a real winner. Tonight was a good practice session.
Gabrielius Vagelis – My Guy
Tonight LRT appear to have saved the best for last. Gabrielius of course makes his usual fashion statement, but as always the voice is pretty mellow and on key. Gabrielius's songs are starting to sound alike, but if they're like this, we'll let him off. This should be going to the semis.
The Judges
Five judges were available tonight to offer their humble opinions.
Ramūnas Zilnys – our regular silver haired bandit who obviously isn't ageing well having to judge the songs week after week
Vytautas Bikus – writer of When We're Old and our green room host's Eurovision entry This Time.
Ieva Narkutė – a Kaunas born singer-songwriter
Stano – a Russian Lithuanian singer, songwriter and front man of the band, Delfinai.
Gerūta Griniūtė  – a music major and journalist
The Results
| | | | | |
| --- | --- | --- | --- | --- |
| | Jury | Public | Total | Position |
| UnoBand | 1 | 3 | 4 | 10 |
| Cosmic Bride | 6 | 1 | 7 | 9 |
| Rapolas | 3 | 5 | 8 | 7 |
| Sunday Afternoon | 5 | 4 | 9 | 6 |
| Aistė Brokenleg | 7 | 2 | 9 | 5 |
| Norbertas | 4 | 10 | 14 | 4 |
| Gabrielė Goštautaitė | 2 | 6 | 8 | 8 |
| Gebrasy | 12 | 12 | 24 | 1 |
| Evita Cololo | 8 | 8 | 16 | 3 |
| Gabrielius Vagelis | 10 | 7 | 17 | 2 |
Lithuania At The Eurovision Song Contest
Due to the cancellation of the Eurovision Song Contest 2020, this year will again be Lithuania's 21st appearance at the show.
Lithuania has sent 7 male singers to the contest, one of them twice, Donny Montell, who has been the most successful, placing 9th on his second appearance in 2016 with I've Been Waiting For This Night.
Only 4 solo females have graced the stage with Ieva Zasimauskaitė doing best in 2018, gaining 12th place with When We're Old.
Two duos have represented Lithuania. Monika Linkytė & Vaidas Baumila were the most successful, although they only finished 18th in 2015 with This Time.
That leaves 6 groups or bands, of which, since 2006, LT United have given Lithuania their best result ever, when they finished 6th with We Are The Winners.
Enjoy tonight's winning perfomance from Gebrasy below