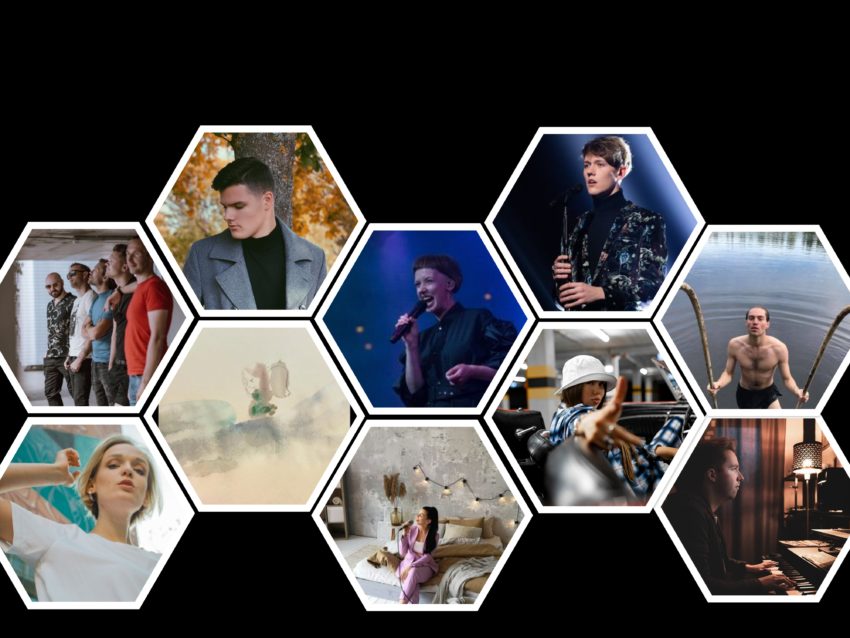 This weekend the second heat of Lithuania's Pabandom iš Naujo will take place and surprisingly that will be the last one this year, as LRT drastically reduced the length of this year's contest. We take a closer at this week's participants.
The top five acts will head into the semi-final to be held on 30 January 2021, with the final taking place the following week. For now let's take a look at who is appearing in the second heat, and more importantly who has been ex X-Faktorious contestants.
Last week saw the first five contestants make the semi-final, so place your bets on who will join them.
Aistė Brokenleg
No Lithuanian competition is complete without an Aistė, and this year with no Pilvelytė, we get Aistė Motiejūnaitė (Brokenleg) instead. Miss Brokenleg is a singer-songwriter from Vilnius, born on October 3. Her song is called Home and there was some surprise that this reached the final, as the music is quite anti Eurovision. Actually this act may be a trio, we will wait until Saturday to see. Abrokenleg appeared last year with the song Electric Boy, placing 10th in their heat.
Cosmic Bride
Cosmic would be able to perform in the Ahoy, no matter the COVID situation, as she lives in Rotterdam. The bride's real name is Natalia Kharetskaya, and she was born in Klapedia, Lithuania's third largest city. Natalia moved to the Netherlands in 2015 to study jazz, liked it and stayed. She works around the Netherlands as a session singer, and composes for other artists. She will perform Solitary Star on Saturday.
Evita Cololo
Evita is the daughter of the late Lithuanian comedian and presenter, Vitalijus Cololo, who sadly passed away in 2019, aged only 45. Evita was born in Southern Lithuania, in the town of Druskinikai. She won season seven of the Voice of Lithuania in 2019. Evita will sing Be paslapčių on Saturday.
Gabrielė Goštautaitė
Gabrielė Goštautaitė was born in 1994 and raised in Jonava, but now lives in Kaunas. She began singing at the age of 14. She studied opera at university. Her video for her song Freedom was one of the earliest released to social media.
Gabrielius Vagelis
Gabrielius has been a regular in this context, but has received mixed results with his past entries. In 2017, he made the final with Feel Myself Free finishing in 5th place. The following year, The Distant was dropped in the semi finals, and Tave čia randu suffered the same fate last year. Gabrielius pins his hopes on My Guy this year.
Gebrasy
Another contestant who is making a run for it, for the fourth time. Gebrasy, real name, Audrius Petrauskas first appeared in 2017 with the song Shine Like Gold, and finished ninth in his heat. The following year, In My Bones was eliminated in the second heat. Now with stage name, Gebrasy, the song Acceptance was unexpectedly dropped in the first heat in 2019. There are high hopes for this year with the song Where'd You Wanna Go?
Norbertas
Norbertas, real name Norbert Liatkovski was a contestant on the seventh season of Lithuania's X Factor. He finished in fifth place. As well as singing, his profession is listed as a photographer. Norbertas will sing Man In Need, and should stand out as he has quite a unique voice.
Rapolas Meškauskas
This will be the first time Rapolas takes part in this contest. His song will be Degam, which means Burning. Rolas auditioned for X Faktorius with Mahmood's 2019 Italian entry, Soldi. He didn't quite make it to the final round. Rapolas's song is quite jazz influenced with a trumpet heavily featured.
Sunday Afternoon
You will already know, Sunday as Vilija Matačiūnaitė, who represented Lithuania at the Eurovision Song Contest 2014 with Attention. On that occasion, in Copenhagen, she placed 11th and just missed out on making the Grand Final. Her 2017 attempt I See The Lights didn't make the cut, alas. Miss Afternoon has become quite the performing artist and will be hoping to do well with the song, Open.
UnoBand
UnoBand are a five male band who often tour Lithuania. Their repertoire includes lots of traditional Lithuanian favourite songs. They have released three of their own compositions. With the song, Eisiu, this will be the debut of the group at the Lithuanian song contest.
Below you can watch the video, Freedom, which Gabrielė Goštautaitė will perform on Saturday