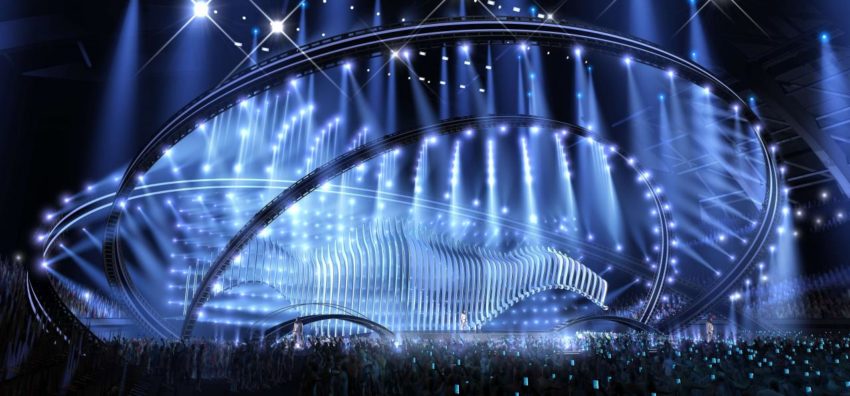 We might be five months away but Portugal have been working hard to prepare for their first ever Eurovision hosting. Today they have announced the stage that the acts will perform on in May next year.
The stage for 2018 has been revealed today. Inspired by the hull of a ship next year's stage reflects Portugal's history and culture. The stage for the 2018 Eurovision Song Contest has been designed by no other than Florian Wieder, Eurovision fans might know this name as he has been responsible for several Eurovision stage designs including the most recent staging in Kyiv earlier this year.
His inspiration for the stage came from four simple points: Navigation; The Sea; The Ships and The Maps. Weider believes these to be the four key points are closely linked to Portgual's history.
"The rich history of the Portuguese as a maritime nation reflects, without any boundaries, all of the values that make the Eurovision Song Contest unique today. Portugal and especially Lisbon are historic melting pots enriched by the impressions of newly discovered cultures that were brought back to the home port. This is mainly due to the Portuguese sailor men, who traveled the seas with courage and outstanding skills of navigation," said Florian Wieder, Stage Designer for the 2018 Eurovision Song Contest.
The stage designer added that the 2018 Eurovision Song Contest will take the viewer on an expedition through many different cultures in Europe and around the world. A journey through the high seas of music that pursues to discover, connect and ultimately unite the nations. Believing Portugal to be the navigator and the compass, united Europe with music.
Jon Ola Sand, Executive Supervisor of the Eurovision Song Contest agreed, adding; "As with the logos and slogan for the 2018 Eurovision Song Contest, the stage design draws from the inspiration of Portugal's history and of the Ocean very well. It will create a very distinctive look and feel for this year's performers, and we look forward to seeing this intricate and modern set up in action next May."