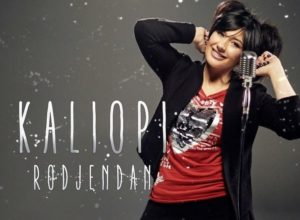 Kaliopi, who represented FYR Macedonia at the Eurovision Song Contest twice, has released a new song today on the occasion of her 50th birthday. The name of the song is Rođendan, which simply means Birthday in English.
Kaliopi has explained that her new song is a gift to her fans. Romeo Grill, who is Kaliopi's ex-husband and her common music partner, has written music and lyrics for Rođendan. The song seems to be autobiographical and it expresses Kaliopi's declaration of love to a person who always is there for her in the good and bad times.
With reference to her new song and her birthday, Kaliopi has pointed out, that the age never has been important to her as a number, but more as a possibility to realise the things, which people would remember her for. That is the reason why Kaliopi, in her own words, celebrates all days, not only birthdays, by singing.
Kaliopi Bukle, which is her birth name, represented FYR Macedonia at the Eurovision Song Contest on two occasions. In 2012 in Baku she finished 13th in the grand final with the song Crno I Belo, scoring 71 points. This year she performed the song called Dona in Stockholm, but failed to qualify to the grand final.
EuroVisionary wishes Kaliopi a very happy 50th birthday and lots of success, health and happiness in her future life.
Below you can watch the video for Kaliopi's new song Rođendan: