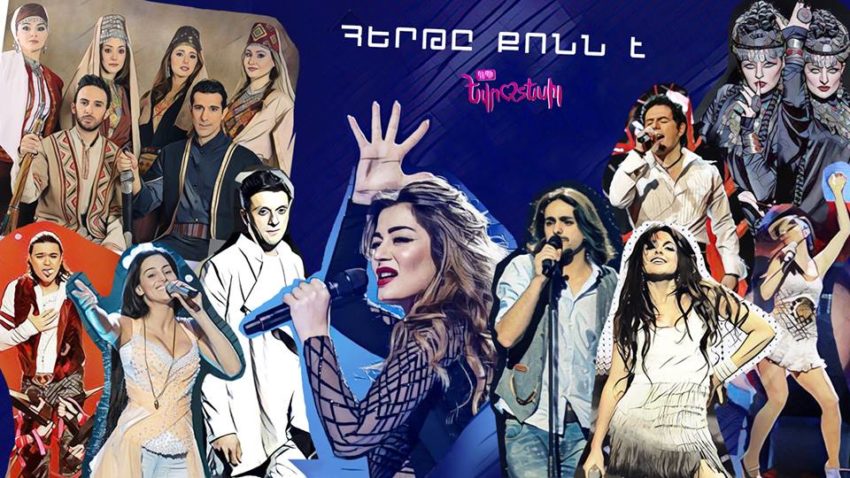 Armenian public broadcaster revealed today jury members of its new national selection process for Eurovision 2017, Depi Evratesil. All of them represented Armenia in the Eurovision Song Contest at the past, and their task is to search for the appropriate Armenian singer across the country and abroad for the 2017 representative.
Depi Evratesil (To Eurovision) is the national final organised by broadcaster AMPTV that will select the artist who will represent Armenia in the Eurovision Song Contest 2017. The competition is expected to run for three months between September and December 2016 and will include auditions, and live shows.
In the latest trailer of the show, new details have been revealed about how the selection will go on. In this trailer the Armenian head of delegation and famous TV presenter Gohar Gasparyan announced that the show will start in September and will be held over four stages.
The most important however new information was the names of the six judges of Depi Evratesil, all of them former Eurovision representatives of Armenia in the Eurovision Song Contest:
Iveta Mukuchyan (2016), finished 7th with the song LoveWave in Stockholm
Essaï Altounian (2015), part of the group Genealogy that finished 16th in Vienna with the song Face the Shadow
Aram Mp3 (2014), finished 4th with the song Not Alone in Copenhagen
Inga (2009), part of the duo Inga & Anush that finished 10th in Moscow with the song Jan Jan
Anush Arshakyans (2009, 2015), represented twice Armenia in the contest as a part of Inga & Anush in 2009 and Genealogy in 2015
Hayko (2007). represented Armenia in Helsinki with the song Anytime You Need, finished in 8th place
The deadline to participate in the Armenian National Final is the 25th of August. The Armenian citizens and Armenian compatriots living abroad are allowed to participate by filling the form at eurovision.am 
Live auditions will start in September and the judges will be picking artists in their teams and guide them on their way to Eurovision's stage on May 2017 in Ukraine.
Broadcast of the show will start in October. The contest will last nearly 3 months and the winner is expected to be revealed by the New Year. The winner of the project will have a chance to participate in the Eurovision 2017. The winner will be selected by the jury and through the viewers' sms voting.
Below you can watch Iveta Mukuchyan performing her Eurovision 2017 entry LoveWave which brought a 7th place for Armenia: