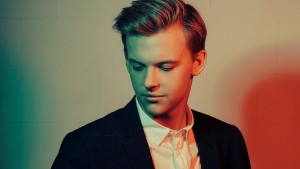 Eesti Laul 2016, the competition to choose Estonia's entry in the Eurovision Song Contest 2016 has just ended with Jüri Pootsmann and Play being chosen to represent the country in Stockholm, Sweden in May. Ten acts competed against each other, having reached the finals through two earlier semis held in mid February.
Estonia will perform in the second half of the first semi final on May 10th.
The Songs
Laura – Supersonic
This is a good pop song very well sung very good opener to a competition. Laura has been here before, getting loud with Suntribe. The gold spandex costume is hardly what your everyday person would wear, but this is show business and anything goes. Someone, though, needs to take Laura aside and have a quiet word with her. The song keeps its momentum all the way through. Yes, this would be a good entry for Estonia this year.
Go Away Bird – Sally
A little bit of the 'I am too cool to smile' going on here, a sound, like, maybe, a Blondie demo on a bad day. Two men in black play along on their guitar and drums, whilστ the female lead tries to sing, making no effort whatsoever to stretch her vocal chords. That being said, there's nothing overtly wrong with the song, but lacks excitement.
Mick Pedaja – Seis  
How soon Estonia forgets Malcolm Lincoln. This is a very arty piece of new age, as far away from We Are The Heroes of Our Time, as you can imagine. The pace never gets above trance speed so do not drive with this on the radio. So arty, it should be hung on a museum wall. Looks like the hall had a power cut.
Grete Paia – Stories Untold
Another very good attempt with an excellent hook. Estonia has some real winners this year. This could win Eurovision if picked. The verses of the song are sort of talked sung, but the chorus is a joy. No nonsense with this performance – it's all about the song. It breaks at the end for a bit of a rain storm and then starts up again to end with one more rendition of the very strong chorus. Grete was in white.
Kéa – Lonely Boy 
This Corr look-a-like has a terrific voice to make up for her stilted dance moves. However, the song is a little plodding but it gets into your head with its repeated refrain. Hard to tell where this will end up, but again another good potential entry for Estonia. The stage seems too big for this performance.
Jüri Pootsmann – Play 
Another polished and well scrubbed performance, Jüri's made sure to get his hair cut nicely and find himself some cool clothes to wear. Perhaps he got some tips from writer Stig Rasta. A low baritone bit of a voice, the ballad is pleasant enough fayre but something is missing. Perhaps he needs a few more backing singers to help? A potential qualifier though.
Kati Laev & Noorkuu – Kaugel sinust 
Estonia returns to the Rändajad days with a very similar feel to that entry. The vocal quintet in the background lift the song above ordinary, but as it continues, it gets a bit wearing. Naturally, there is no smiling in the performance and, by the end, it sounds a bit like a funeral march.
Cartoon feat. Kristel Aaslaid – Immortality  
If a turkey can represent Ireland, then why not a cartoon for Estonia. The novelty of the act hides that the song is actually a good attempt at a bit of electro music. Either it will be loved, or cast aside as a good idea that no-one cares about. The staging is quite magical, very like the world of tomorrow.
Meisterjaan – Parmupillihullus 
Either total genius or absurd lunacy, Going with the latter, this makes you squirm Leto Svet style, whereas the other opinion is that you don't know what you just watched, but you want to see it again.  If you haven't seen this one, take three minutes out of your day to give it a try.
I Wear* Experiment – Patience
This sounds like Hippy Chick by Soho from the nineties, but with a bit less hippy and more of the chick. The name of the band is of course pretentious nonsense. However, this is another pretty good attempt, a good pop song and perfect to close the contest. Hopefully the Estonians will choose well.
The Show
Ott Sepp and Märt Avandi were tonight's hosts. The show took place in the Saku Suurhall in the Estonian capital, Tallinn.
What better way to start the show than Stig and Elina miming last years entry, well an EDM remix from the hosts is the answer to that question. Audience now awake, the Saku Suurhall  seems quite big. Jon Ola Sand is sitting in the audience.
The contestants were paraded into the hall and it seems black and white are generally the colours of choice in Estonia this year, Laura being the exception. Nice also to see the hosts' tribute to Scotland with all the tartan.
After all the songs had been sung, a fancy bright blue and pink score board appeared with the numbers to call to vote for your favourite. It put Lithuania's board to shame a little.
After a thirty minute news break, the show returned for the results. Another run through of the phone numbers.
Finnish singer Isac Elliot performed and, as an extra bonus, Maarja-Liis Ilus and Ivo Linna performed Kaelakee hääl to celebrate the 20th anniversary of the song.
The Results
The first round of voting saw a jury and the public decide the top 3 songs 50/50. The qualifiers were Laura, Jüri Pootsmann and Cartoon feat. Kristel Aaslaid.
The eventual winner, Jüri Pootsmann was chosen solely by the public in a second round of voting.
| Artist | Song | Jury Score | Jury Converted Score | Televote | Total | Round One Result | Round Two Result |
| --- | --- | --- | --- | --- | --- | --- | --- |
| Laura | Supersonic |  64 | 6 | | | | 2 |
| Go Away Bird | Sally | 52 | 4 |  2 |  6 |  8 | |
| Mick Pedaja | Seis |  91 | 10 | 5 |  15 | 4 | |
| Grete Paia | Stories Untold |  41 | 2 | 6 |  8 | 7 | |
| Kéa | Lonely Boy |  64 | 5 |  1 |  6 | 9 | |
| Jüri Pootsmann | Play | 108 | 12 | | | | 1 |
| Kati Laev & Noorkuu | Kaugel sinust |  18 | 1 |  4 |  5 |  10 | |
| Cartoon feat. Kristel Aaslaid | Immortality |  78 | 8 | | | | 3 |
| Meisterjaan | Parmupillihullus |  44 | 3 |  7 |  10 |  5 | |
| I Wear* Experiment | Patience |  78 | 7 |  3 |  10 | 6 | |
Estonia At The Eurovision Song Contest
Twenty one Estonian entries have graced the Eurovision stage since their debut in 1994 and no-one can accuse them of not sending a mixed bag.
Ines was one of the favourites to win in 2000 with Once In A Lifetime, but had to settle for fourth place.
However, the following year, often touted as one of the worst winners ever, Tanel Padar and Dave Benton with 2XL and Everybody in 2001 gave them their only first place. Sahlene nearly repeated their success on home ground the following year when she came third with Runaway.
Estonia failed to reach the final for five successive years between 2003-2008, but stormed up the scoreboard with Urban Symphony and Randajad in 2009 to finish sixth. In 2012, Ott Lepland equalled that position with Kuula.
Enjoy Estonia's recent highlights below including clips from last year's seventh placed Goodbye To Yesterday.