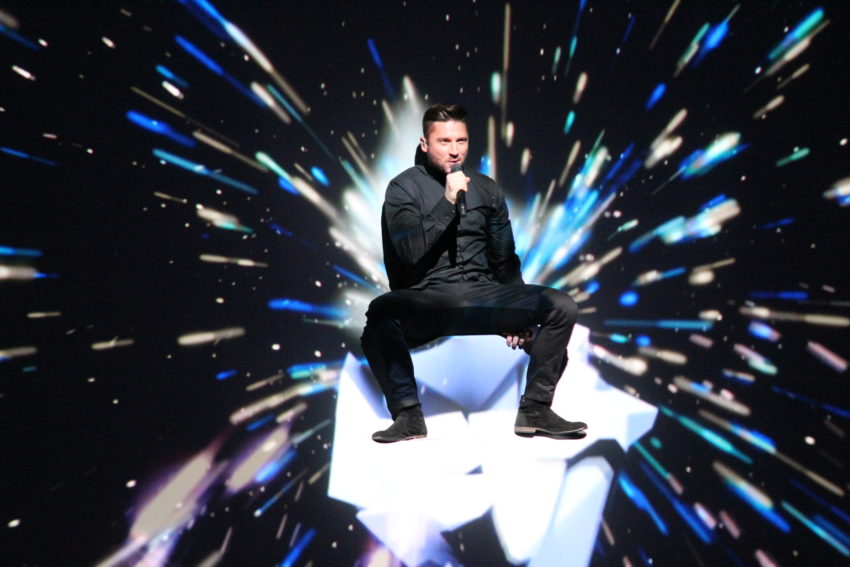 A bad kept secret is now officially confirmed. Sergey Lazarev will represent Russia at the 2019 Eurovision Song Contest. After narrowly missing out on victory in 2016, does he have what it takes to bring the trophy back to Russia for a second time?
After months of talks, the truth is out. Sergey Lazarev has been given the Russian ticket to Tel Aviv and will represent the country at the Eurovision Song Contest for the second time. The song that he will compete with is not yet known, but it is written by Greek composer Dimitris Kontopoulos, who has written eight Eurovision entries over the years, including Lazarev's 2016 entry You Are The Only One. In the Russian team this year we also find Fokas Evangelinos as stage director, Ilias Kokotos as project manager and vocal coach Alex Panayi, who previously represented Cyprus twice (1995 and 2000).
Sergey Lazarev becomes the second singer from Russia to enter the contest more than once. Fellow pop star Dima Bilan finally brought Russia their first victory in 2008, two years after his first time competing where he finished in 2nd place.
With his dazzling light effects and him climbs up on the backing screen as it spun around, Lazarev caught attention with his 2016 performance. For many, he was the sure winner of the contest, but it didn't work out that way. Although he won the public telephone vote, he received a disappointing jury result, which made him finish in third place. Many felt that the jury vote was politically biased as Ukraine's Jamala became the overall winner despite neither winning the jury or the televote.
I was very worried about whether I should go back to the competition because on the one hand it was the best professional experience of my life but on the other I do not like to repeat myself. It is magical, however, that music can give to an artist all the answer to his thoughts, as by listening to the song, in a magical way I was totally questioned.

Sergey Lazarev to Channel One  News
Dimitris Kontopoulos' eight Eurovision entries
Greek composer Kontopoulos first appeared at Eurovision in 2007 for Belarus. Over the years, he have written seven more Eurovision entries and represented a total of five countries. Seven of his Eurovision songs reached the final and most of them scored a result in top 10.
| | | | | |
| --- | --- | --- | --- | --- |
| Year | Country | Title | Artist | Placement |
| 2007 | Belarus | Work Your Magic | Dimitry Koldun | 6th |
| 2008 | Ukraine | Shady Lady | Ani Lorak | 2nd |
| 2009 | Greece | This Is Our Night | Sakis Rouvas | 7th |
| 2013 | Azerbaijan | Hold Me | Farid Mammadov | 2nd |
| 2014 | Russia | Shine | Tolmachevy Sisters | 7th |
| 2016 | Russia | You Are The Only One | Sergey Lazarev | 3rd |
| 2017 | Greece | This Is Love | Demy | 16th |
| 2018 | Azerbaijan | X My Heart | Aisel | Did not reach the final |
Although not officially credited, Kontopoulos also wrote Moldova 2018. This was revealed at a press conference in Lisbon.
Sergey will be hoping to put Russia back on the Eurovision map. Last year, Julia Samoylova became the first Russian entrant not to qualify for the grand final. Her entry I Won't Break failed to impress as she finished the semi-final in 15th place.
In the video below, you can be reminded of Sergey's first attempt at Eurovision when he performs You Are The Only One in Stockholm.