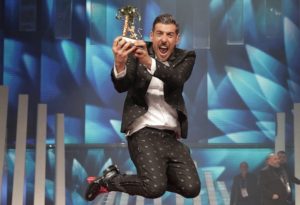 This year's big favourite to win the Eurovision Song Contest is Francesco Gabbani with Occidentali's Karma. One month until the final of the contest, the 35 year old singer has already set several records.
Francesco was nominated as the Italian representative forthe upcoming Eurovision Song Contest on the 11th of February, after his triumph in Sanremo music festival. His victory in the famous Italian music festival was his first record, as he was the first artist to win the two categories of Sanremo (newcomers and established artists) two years in a row.
The day after his victory in Sanremo, the official video of Occidentali's Karma became the most watched Italian video in YouTube's history, according to Vevo!
Two months later, Francesco smashed the previous record Il Volo had with Grande Amore (Italy 2015), as the most watched Eurovision song on YouTube. Occidentali's Karma has now more than 90 million views, while Grande Amore is second with 86 millions and Alexander Rybak (Norway 2009) is third with 81 million views.
A new record was furthermore set yesterday as Francesco achieved the lowest odds for an entry we have ever seen before the rehearsals at Eurovision started. Betting offices predict an Italian entry with odds that starts from 1,91. Fairytale (Norway 2009) and Euphoria (Sweden 2012) never had odds that low one month before the contest.
Will Francesco win the 2017 Eurovision Song Contest and make a new record of points in one month in Kyiv? Eurovision is an unpredictable competition and everything can happen, but at the moment it looks like the Italian broadcaster RAI can start looking for possible host cities for the 2018 Eurovision Song Contest.
Watch Francesco Gabbani performing Occidentali's Karma at Eurovision In Concert in Amsterdam last weekend, in the video below: