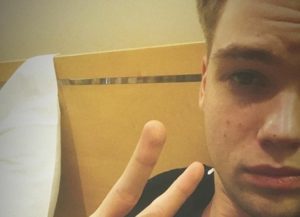 On Sunday, Mikolas Josef had some medical problems which seemed quite bad. Hopefully, things are starting to look at least a little bit better.
Update (02/05/2018): Czech Republic's delegation has confirmed through their official Facebook profile that Mikolas Josef will be able to rehearse tomorrow. Nonetheless, it's not guranteed the performance will continue the same as the team is still working on a few adjustments to make sure the singer is comfortable on stage.
At first, things looked good and the visit at the hospital after Mikolas Josef's first rehearsal was just to be sure, that everything really is ok. But then that message from Mikolas came, that the situation was worse than it was expected and he was unable to even move.
But it wasn't the end of the story. Those visits at the hospital continued with some X-rays, MRI and CT scans and on Monday evening, Mikolas shared a message on his InstaStory that things are going to be a little bit better. He took some painkillers which helped him to be able to go to a lunch on his own. That gives us the hopes, that he will be able to perform in the end. But the choreography is probably going to be changed according to his current condition. Mikolas also mentioned that he doesn't want to disappoint his fans. Unless the doctors will forbid him to perform, he will sing no matter what is his condition. That gives us the hopes, that we won't see the Czech Republic pulling out of the contest. There is still one week to go before the first semifinal and that is a lot of time for Mikolas to recover.
In the meantime, you can check his performance of the Eurovision entry Lie To Me from Eurovision in Concert in Amsterdam.