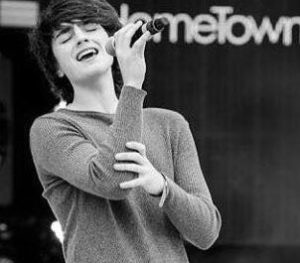 Brendan Murray will represent Ireland at the 2017 Eurovision Song Contest held in Ukraine May next year. That was revealed today by broadcaster RTÉ. The broadcaster opened for songs to be submitted for him.
Irish Broadcaster RTÉ has announced in a press release that HomeTown's Brendan Murray will represent them in Kyiv next year.
RTÉ had this time asked Louis Walsh, entertainment manager and X-Factor UK judge, to find, select and prepare the act that will take on the task of representing the country at the 2017 Eurovision Song Contest. Throughout his career, Louis has been in charge of performers like Boyzone, Westlife and Girls Aloud. But also Eurovision acts like Jedward who represented Ireland in 2011 and 2012, and Eurovision 1997 host Ronan Keating (Former Boyzone member) who co-wrote the Danish 2009 entry. We shouldn't forget either that Louis knows last year's Irish participant Nicky Byrne who was a part of Westlife when they were managed by Mr. Walsh. The band HomeTown whom Brendan was a member of was also managed by Louis Walsh.
RTÉ are now looking for the perfect song for Brendan to perform in Kyiv and have now opened the submission for interested parties to submit their song. In the statement today the broadcaster said 'RTÉ is now inviting interested parties to submit a song for consideration by Louis Walsh in conjunction with a judging panel to be selected by RTÉ. Louis Walsh and the judging panel will consider all songs but will not limit themselves to considering songs solely submitted through this process'.
Submissions are open until 5pm on Monday 19th January.
Ireland at the Eurovision Song Contest
With nothing less than seven victories, Ireland is the most winning Eurovision country. They joined the contest in 1965 and with only two years off, the country has taken part a total of 50 times. Ireland is also the only country to have won the contest three times in a row. That happened in 1992, 1993 and 1994 – and if that wasn't enough, they won again in 1996. The 1996 victory to Eimear Quinn for The Voice is Ireland's last Eurovision victory.
Unfortunately lately, Ireland has not been able to live up to its past glory. Since the introduction of semi-finals, the country miss out on the final on average every second year. For the 2016 contest the broadcaster internally selected former Westlife member Nicky Byrne. With the song Sunlight he ended 15th out of 18 in the semi-final. As such Ireland has missed the final three years in row now!
In the video below you can watch Nicky's Eurovision performance: