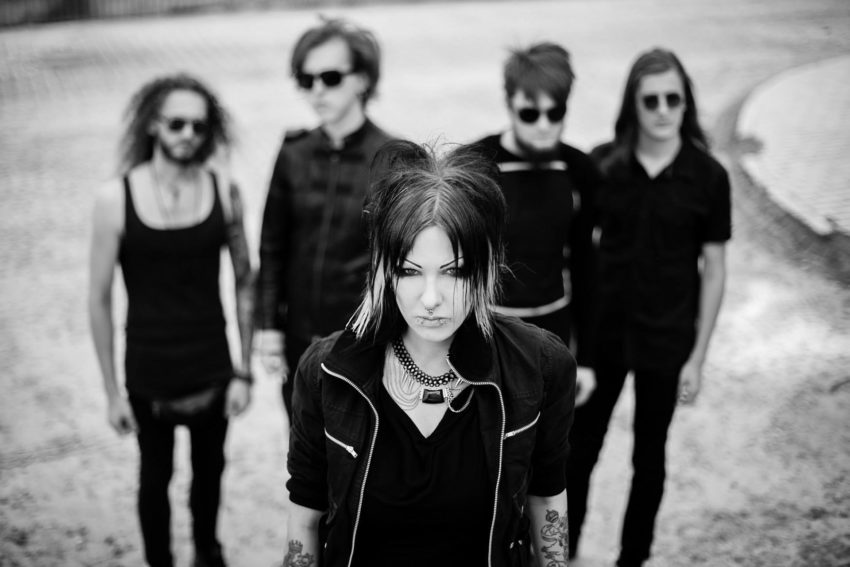 Today we sat down with Ukrainian Semi-Finalists AGHIAZMA to get to know the band who aim to bring their "selfish-rock" to the Eurovision Song Contest stage. They talk about their disqualification, their change of song and what they have to offer the contest.
We have learned a lot about this eccentric rock band from Kyiv, including the name and style of the song that they hope will give them the victory in the National Selection. And also, in their own words, what happened in the online Wildcard vote which caused them to have their points annulled. Will they be able to win the national selection and represent their home country in their home city?
Who are AGHIAZMA, please tell me about yourself?
AG–  AGHIAZMA is a band from Kyiv, Ukraine and consists of 5 persons. All the 5 members of AGHIAZMA have different tastes and experience in music styles. For a few years, AGHIAZMA couldn't decide how to name their music style correctly, because the members of the band just enjoy the creative process and are satisfied how their egos and ideas combine with each other. "Selfish-rock" describes the creation and personality of the band perfectly. Our style is inspired by gothic, industrial, post punk, j-rock and indie music. AGHIAZMA has created an imaginary religion. The band worships The Great Jellyfish Goddess and Kora Rex (vocalist) is the Underwater Prophet. Because everything consists of water, even the sound has waves. AGHIAZMA is everywhere.
After The Hardkiss did so well in the national final last year, did this inspire you to participate this year?
AG- We respect The Hardkiss but their Euro story does not have anything to do with AGHIAZMA. We decided to participate because we feel a strong belief in what we do, we have a goal to break the limits of pop music, to show people in Ukraine that the world of music is much wider than they think.
Who is your favourite Eurovision winner, and why?
AG- I like A-ha a lot. They were full of beauty and passion and they have this retro charm – listened to them for a long time. (Norwegian group A-ha never actually participated in the Eurovision Song Contest. Their lead singer Morten Harket was host of the contest in 1996 though, EDT.)

There was an issue this year with the wildcard vote which meant that both you and Kuznetsov had your votes anulled. In your opinion, what happened?
AG- I know exactly what happened – there was a hacker attack on the website of Eurovision in Ukraine and this site was not ready for such things. We had a meeting with the producers of Eurovision in Ukraine and they explained it to us. After that we passed the audition with producer Konstantin Meladze, who liked our music and lliked Kora Rex (vocalist) and gave us this opportunity to participate in the semifinals.
You participated in the wildcard vote with the song Zombie Dogs, why have you decided to change the song?
AG- Zombie Dogs is too long for Eurovision and it can't be shortened because it loses it's charm. We have chosen another song – Synthetic Sun. This song about the commercial attitude to the Art, about cruel struggle for popularity, about the thrust for fame because of the fame itself, and of course about the freedom of self-expression. The "stars" fight for the place under their Synthetic Sun, insatiable soffits blind the eyes and push for the cruel deeds, humaneness is forgotten, the harmony is broken, the Art requires VICTIMS…
Who are your musical influences?
AG – I am influenced a lot by David Bowie, Iggi Pop, Velvet Underground, Sisters of Mercy, Nina Hagen, Type O Negative, The Cure, Depeche Mode, different post-punk bands and goth-rock bands. Kora (vocalist) likes Nero Bellum, Misfits, Ramones, Marilyn Manson, Gary Numan. (Answered by Igor Cherepanov A.k.a Cherep, AGHIAZMA guitarist).
Why do you think that you should represent Ukraine at the Eurovision Song Contest?
AG- Because we are strange, unpredictable, young, full of passion and want to conquer the world with our little army of not up to the end drowned kitten.
The Ukrainian Semi Finals will be broadcast on the 4th, 11th and 18th of February 2017. The final will take place on 25th February 2017. The expert judges on the show include 2016 Eurovision winner Jamala along with 2007 runner up Andriy Danylko (Verka Serduchka) and Konstantin Meladze.